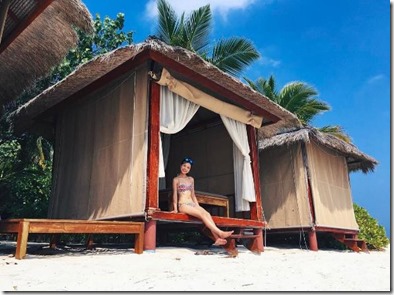 If you want to keep from getting pink in a carcinoma-inducing sun over-exposure way, Banyan Tree Vabbinfaru offers private beach huts for guests:
"Beach Pavilions, located on the public beach in front of the Dive / Watersport Centre. They can be used by in-house guests that do not want to stay in the privacy of their villa and we also use them for guests that arrive early and have to wait for their villa to be ready for check-in. Three beach cabanas at Banyan Tree Vabbinfaru and in-house guests can reserve them via our Resorts Hosts / front desk."
We often struggle with the delicate balance of being as close to the water as possible, but having access to more sun protection than an umbrella and/or palm frond. We find ourselves moving back and forth from our beach perches back to the shelter of our villa set back further. Vabbinfaru provides sort of the best of both worlds with this bonus villas.
Sort of a home away from home away from home.