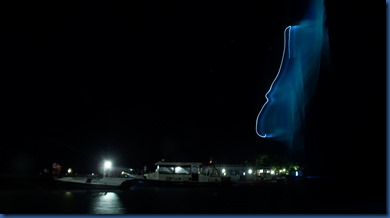 "Fly me to the moon, let me play among the stars…" – Frank Sinatra
Kuredu takes watersports to new heights and times with its Ocean Water Sport "Night Kite Surfing":
"The full moon comes around only 12 times a year, or on rare occasions, sometimes 13. To have a full moon as well as the wind in Maldives, is quite special, so when the two combined recently we made the best of it and hit the water at night. Safety first, a couple of LED lights and a few dive glow sticks (don't tell the dive centre) were attached to the kites, a short briefing was held and we were ready. With only a slight cloud cover the full moon made its appearance and eight kiters enjoyed perfect conditions in the Kuredu lagoon, right in front of the Ocean WaterSport centre."
I have to say that soaring above the moonlight seas (which are often especially calm at night) would be quite the experience.