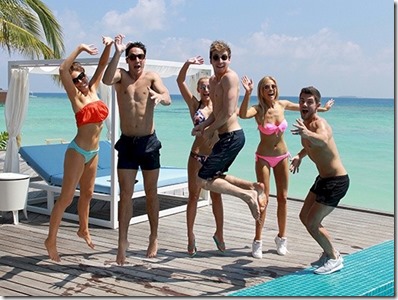 One group that needs little prompting to get the party started is the cast of "Made In Chelsea". This week they recorded their Episode 11 titled "Made in Maldives" from Hideaway Beach resort.
"An eye-opening reality series that follows the lives and loves of the socially elite 20-somethings who live in some of London's most exclusive postcodes…Stephanie hopes a holiday to the Maldives will be just the tonic to get all of her friendships back on track, while Toff and Richard take their friendship to the next level."
I had to call this "Best of" award "Relationship Reality TV" to differentiate it from "Challenge Reality TV" of Survivor which has already been recognised.
I'm always surprised that more TV shows and movies don't get shots at this magical backdrop. Especially, nearby Bollywood. (If anyone has connections to the Indian or French film companies, our award-winning daughter Isley has a stunning script based in the Maldives and based on a true story – #thatguywhohasascript)