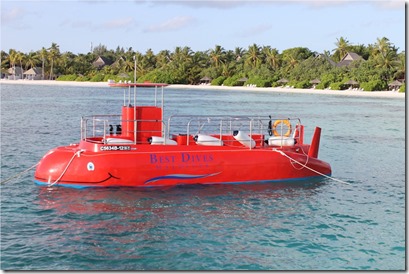 The magic of the Maldives is right at the surface. The landscape doesn't tower above you and the seascape doesn't plummet to the depths. Most of the vibrant colour and life takes place within 10 metres in either direction.
The Maldives features a number of different vessels from glass bottomed boats to full fledge submarines to share the undersea world with the land lubbers without getting wet. There's pretty good sized and diverse fleet of vessels providing a glimpse into the aquatic world. So much that I'm adding a tag for "Glass Bottom" with this post.
The Best Dives semi-submersible at Olhuveli has a fun look. A bit "Yellow Submarine" Peter Max aesthetic. But its real distinction comes at night time. Not be because its bright red colour makes it easier to see. But because it comes equipped with strong underwater lights to allow for night times cruises. A good deal of the ocean creatures are nocturnal. So even if you are an active snorkeler, the Olhuveli boat provides an opportunity to see things you haven't seen before. The resort runs regular night as well as day excursions.
"Sky of blue. And sea of green" – Ringo Starr