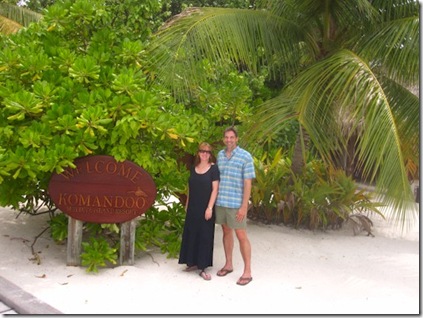 Intimate. Intimate is the one word that describes Komandoo. Intimate island. Intimate cottages. Restaurants with just a few tables and a simple buffet (not mounds of food like some resort smorgasbords). Filled with honeymooners and second honeymooners. It isn't even in the top 20 of smallest Maldive islands, but it still fosters this feeling more so than some smaller islands.
When I started the 'Best Of' feature in Maldives Complete, one of my motivations was to dispel the myth that 'there is nothing to do in the Maldives'. But with Komandoo, I have to concede. There is nothing to do. There really is nothing to do except snorkel/dive, sail/canoe, badminton, chess, volleyball and do spa treatments. And I guess stare into each other's eyes.
That is not a shortcoming, but a design point. It is like the movie 'Couples Retreat' but for 'Stress Retreat'. Instead of broken relationships, it fixes broken blood pressures (and I'm sure it doesn't do relationships any harm either). For folks who suffer from withdrawals of activities, Komandoo is right down the atoll from its sister resort Kuredu which conversely has one of the largest arrays of activities of any resort (kind of like the Eden resort on 'Couples Retreat').
It is this deliberate shun of trappings that misleadingly penalises Komandoo on the official 'star rating' front. It is billed as a 4 star property, but they say that they aspire to 5 star service. I actually think that Komandoo is a 4.5 star or a 4+ star if there ever was one. Mostly, they are a case study for how broken the conventional hotel rating system is, especially when applied in the Maldives. You have an incomparable property that gets official dings because it doesn't have a bidet that no one would use any way. It gets dinged for no swimming pool, and yet for its positioning of being kid-free, there is really no strong reason for a pool. Evidence of this disjointed system is the fact that Komandoo have won several prominent awards, including Trip Advisor Traveller's Choice Award 2009 and #1 Romance Holiday Destination in Asia. You don't win awards like those if you are 'just a 4 star'.
Natural wood styling pervades, which imparts a sauna-like aroma. The wood has a washed finish which is lighter and brighter than many of the wood-finish rooms on other resorts. The villas are raised up slightly higher than most beach villas and so the deck has a bit of an overlook providing more perspective on the tapestry of aquamarine colours just a few metres away.
The pina coladas were the best I've had in a long time (so much so that I broke my own self-imposed limit of 2 and got a 3rd). And the buffet was the first where I had to sample every dish on offer – they all looked and smelled (and tasted) so good.
One of the special treats is the ocean. Komandoo is reputed to have one of the top ten house reefs in the Maldives. And if that's not enough you, Prodivers runs a sharp dive centre. I took a dive trip with Silvia Ruder and Steve Molyneux to the famous Kuredu Caves. The Caves also has to be one of the top ten dive sites in the Maldives. As I have already accounted, they are famous for their impressive turtle community residing in a distinctive array of deep overhangs on a steep reef. There are no guarantees of seeing stuff in diving, but Kuredu Caves is about as close as you get to one. The minute I descended I saw my first turtle and I was still watching one as I did my safety stop. Not just any turtles. Green turtles which are less common than the Hawksbill in the Maldives (though you see Hawksbills as well). And monster turtles. Giant behemoths doing Battlestar Gallactica impersonations. Steve was checking out a leaf fish on one ledge when one granddaddy, every bit as long as the divemaster himself and probably twice as heavy in sumo class, came along and simply pushed Steve out of his way (that turtle wanted his nap and he wanted it now!).
Refined intimate indolence.