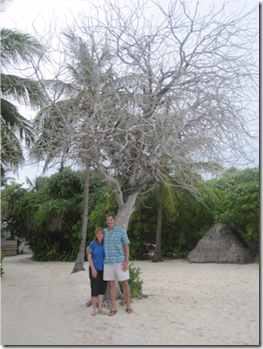 If Kanuhura is Bollinger, then Palm Beach is a fine Prosecco. A fine Prosecco. That's not a slight, but a reference to Palm Beach's strong Italian heritage and links. Like Prosecco, Palm Beach is fine, bubbly refreshment for great value.
A couple of years ago, our family rented a villa on the west coast of Italy on a prominence called Monte Argentario. We went on a diving trip by a local dive operator. The diving was fun and pleasant (didn't real hold a candle to the Maldives though). But the highlight of the day was the lunch the Italian crew crafted on board at the end of the diving. On a little butane fire, they boiled fresh pasta, mixed some chopped tomatoes and local fresh prawns and tossed it altogether. It was one of the most delicious dishes I had ever eaten with its rustic simplicity and freshness. Palm Beach reminds me of that lunch. Nothing fancy at all. Few bells and whistles, but authentic Maldivian splendour and fun. The decor is all natural wood (though a little dark for my tastes) that is simple without coming across as cheap.
Despite its Italian popularity, you can now get Palm Beach packages through Kuoni, but some of the best deals are available directly through the Sportingholidays website. Probably best to avoid August which is the Italians' peak season and there is quite a demand for the rooms then. In fact, a bunch of the room numbers out of sequence due to large numbers of repeaters who don't just want to come back to this same resort, but want their very same room. That means that means that when Palm Beach adds a new villa, they just add a number no matter where it sits in the sequence so as not to disrupt the established numbers.
Ciao from Maldives!