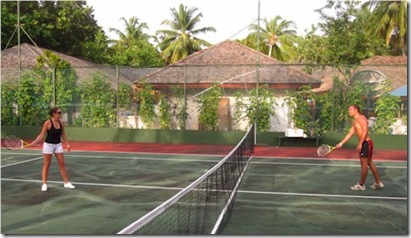 Welcome to Eden. Eden resort of the film 'Couples Retreat' that is. I wrote yesterday about the uncanny parallels between sister resorts Komandoo and Kuredu as depicted in the rom-com 'Couples Retreat'. One of the plot lines of the film is that the guys on the 'Couples Retreat' island plot to find a way to get over to the 'Eden resort' where all the fun and excitement seems to be. Well, Lori and I finally made it over to 'Eden Resort' today. You sense it as soon as you arrive as the reception music changes from Komandoo's gentle jazz (an inspired playlist actually) to Kuredu's 'house' and 'top 40 pop'.
And like the portrayal of the film, I would say Kuredu would be a top nominee for the 'Best Looking Guests'. Lots of young and sporty folks like Darren Hancock and Alison Sampson playing tennis during my resort tour (see picture above). If the arty emos are off to Komandoo, then the 'cool kids' have congregated here. It's not quite party central like Ibiza, but it is as lively and as busy a place as you'll find in the Maldives.
Much of its energy comes from its unmatched array of sports. They exploit their size to offer the fullest range of activities including some of the top diving in the Maldives, a fine water sports centre, a brand new all-weather football pitch and the ringer…a golf club. All the facilities were in steady use during our stay in addition to a range of folk playing games on the beach and in the water.
And when you have worked out enough, the Duniyespa spas are truly first rate. My wife particularly raved about Tini (see below) who was able to relieve neck pain she has been suffering from despite various treatments. One of the best treatments my wife has ever had and she has had a fair few.
Kuredu is big enough that they have divided it into 3 areas each with its own reception, restaurants and atmosphere. The east side is the quiet side with no kids under 12, no water sports, no sea plane, etc.  While Komandoo felt smaller than its real size, Kuredu feels bigger. Kuredu is half the size of Kuramathi, but it feels bigger than Kuramathi. It has the closest thing to 'roads' this side of Gan. In fact, walkways are set aside as coconut-husk lined 'sidewalks'.
Kuredu is a big resort. Big in size, big in offerings, big in energy, and big in personality.