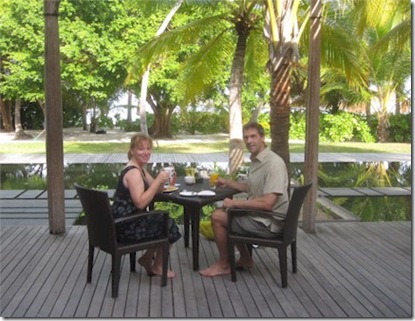 Now that's what I'm talking about.
Distinction. I knew all about the W chain's exacting attention to detail, their preoccupation with style, and their boundary-pushing service ethic. These qualities are the very spirit of the 'Best Of' distinctions I ferret out across the Maldives. In fact, even before my visit, I had already featured the W Retreat many times.
W displayed endless little magical touches…
Laser cut 'W's in the stationery

Sculpted orange wedges in welcome drink

Welcome mat that says 'Good Morning' and changes for 'Afternoon' and 'Evening'

All tables with adjustable leg bottoms so they never wobble

Lychee fruit on the half-shell

'W' embossed on toilet paper triangles

Michelin star quality Crab Corn Chowder (as born-and-bred New Englander who knows his chowders like me can attest)
Those above are probably too small for even my Best Of section, but the W won't miss these Best Of pieces, because my short visit uncovered enough distinctions to draft over 20 other pieces. Combined with the 4 I've already done on the W Retreat powers them past Four Seasons Landaa Giraavaru's 22 pieces (published or in the works).
Style. There's 'Hip Hotels' and then there is the Hip Hotel Chain…the W. I've stayed in W hotels a number of times so I knew what to expect. This tour, I've gone from the jazz of Komandoo, to the pop of Kuredu, to the 'chill out' of W Retreat. If Kuredu's guests were eye candy, the W Retreat resort itself is the eye candy. Sometimes pictures exaggerate how nice something looks, but I think pictures don't capture the actual refinement and polish of the W.
Service. The W abounds with 'W' alliterations, one of which should be "Where everyone knows your name." Quite literally. Be warned it can be a bit creepy for the unsuspecting to have everyone calling you by name, but it really does make you feel like a bit of a celebrity.
Service is not an add-on for the W, but an ingrained part of its DNA. At first, I was curious that there was no butler service which has become de rigueur for the super-premium properties in the Maldives. Then, I realised that every member of staff was trained and positioned to be a 'butler'. Actually, all staff are referred to as 'Service Talents'. I was going to say the service is 'baked in', but it rather seems like it is 'engineered in'. The way that German automakers 'engineer in' quality, and Italian designers 'engineer in' flair. You get the sense that there is some W R&D laboratory somewhere with a bunch of style and service boffins in white (linen) coats sitting around experimenting with new innovative touches.
Service is not just about cheery faces and intense willing. It is about excellent processes that both handle issues when they arise and avoid issues altogether. It is also about deep training of the staff so that they can execute smoothly on the demands placed. All top resorts say 'this is what we offer, but we can do anything you like'; the W says 'what we offer is anything you like.' The service sort of feels like how your spouse treats you on your birthday ("Anything you like honey, it's your birthday").
Some people critique that the W is too officious in its service, but I think that they do need to be a little forward in spelling out what a guest can ask for and get. Simply because most guests simply wouldn't think of asking for some of the things that the W will do.
Chic, current, charismatic.