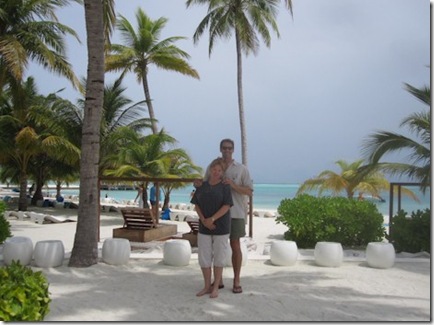 Kandooma has architected, in its landscape and buildings, vast inner spaces from a tropical canopy to a striking set of main buildings. Walking around the island, one feels a dramatic cathedral-like sense of interior space both in the built up and natural areas.
The island has no house reef and only a few small swimming lagoons. The downside is that there is hardly any snorkelling from the beach (but snorkelling excursions are offered for free everyday at 3:00 pm). One upside is good wave breaks for those interested in surfing. But this type of reef gives the island a different atmosphere to the classic, quiet little plot of sand in a lagoon. Instead of calm water gently lapping the shores, the ocean in many places (not all) around Kandooma rolls in with modest waves that fill the air with the ambient sound of gently crashing surf.
The surf is just the beginning of its more vibrant feel. Kandooma is popular with young families, so one hears peals of laughter, splashing of water and scampering around by giddy youngsters. The resort also offers different entertainment every night from local bands to karaoke.
Kandooma's island does not sit alone in the ocean like W Retreat, nor is it tightly clustered with other islands like Anantara, nor amidst big built up islands like Vadoo, but there is a collection of islands in the immediate vicinity. Like a little Indian Ocean neighbourhood of islands.
Kandooma itself has the feel of a little ocean town, especially around the reception, which overlooks a main mini-harbour surrounded by the restaurant and the towering upside-down 'coconut husk' buildings. Kandooma is not small at all, but doesn't feel big either. You can easily circumnavigate it in the time it takes to drink a pina colada. It has a very open feel, especially in the interior where there are lots of trees and greenery, but not lots of shrubbery or ground cover. A pervasive tropical canopy of greenery shrouds an endless expanse of white sand.
Like its syllable shuffled counterpart Komandoo, Kandooma is really a 4+ star. It ticks all the boxes for a 4 star rating but adds quite a number of 5 star touches like rain showers and free in-room Wifi. The rooms are smart and stylish with antiqued white wash decor. It has stylish design with its use of burr-wood, the 'coconut husk' inspired architecture, and dramatic white canvas awnings of the main areas.
An ebullient bubble of paradise.