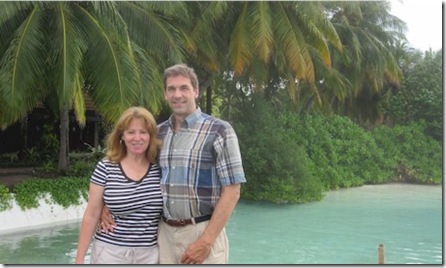 My first ever repeat. After visiting 29 resorts with a credo of always trying new resorts, I have returned to a resort for the first time ever. Kurumba. My motivation pretty much describes Kurumba's key differentiators – great value 5-star luxury, business convenience to Male, and variety of offerings.
Kurumba is the grand old man of Maldives resorts with all of the dignity and refinement the years of practice bring. It knows, though, that it has to keep in shape with all of the young luxury marque whipper-snappers coming into the neighbourhood on a regular basis. Current General Manager Jason Kruse has undertaken a particularly aggressive investment in updating the look and standard of the rooms. I revisited the Deluxe Beach Villa that we stayed in two years ago and it was a completely different class of room. Simple tasteful style touches livened up the whole look. But they haven't flown in a bunch of Swedish style-boffins nor imported a boatload of Milan decor. Instead, they have done most of their work themselves to reflect a more Maldivian flavoured style and produced the touches right on the island by their own in house artisans.
Would you buy a second-hand Rolls Royce in excellent (not mint condition) cared for by loving, caring owners? Or would you prefer a brand new Audi for the same price with its new car small and whizzy state-of-the-art bits? If the former, then Kurumba is a place to consider.
They have kept their food standards very high with a constant refresh of the menu. The restaurants are all truly gourmet (eg. 'Magic Fish'…a dish as fine as its name). Also, Kurumba is a top candidate for 'Most Sharks as Diner Companions' recognition. Their Ocean Grill sits over the water in a place frequented by the reef's many juvenile black-tipped reef sharks. At one point we counted 8 circling just below our table.
Looking forward to settling in and enjoying a bit of this classic for a few days.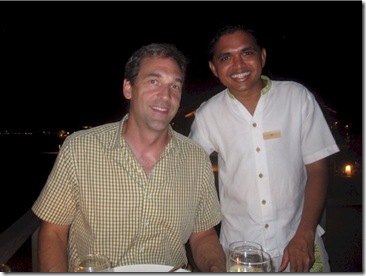 Welcome at the Ocean Grill restaurant by Ali Farooq who I friended on Facebook after our last visit.