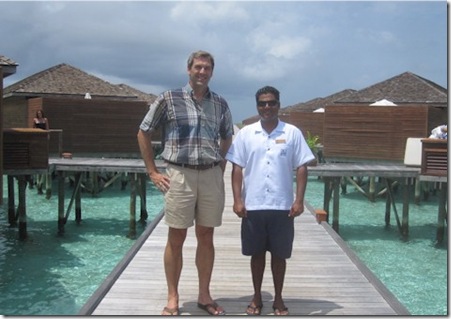 Meeru is a simple, tasteful formula that works.
It's smart casual. Not 'chinos and polo shirt' smart casual, but 'boho chic' smart casual. Rattan furniture and natural blonde wood interiors give the chalet-like villas a tasteful simplicity. A relaxed and breezy style where nothing is forced.
Like its sister resort, Kuredu, Meeru is a large island with lots of activities. It also is the only other resort with a 'Golf Club'. The pitch and putt is compensated for its diminutive size with sumptuous landscaping including well manicured 'fairways' and water lilies in the hazards (curiously enough, no 'sand' traps). Like Kuredu, Meeru also has segregated the resort into 'kid-friendly' and 'no kids' sections. Children (under 18) are only allowed to stay in the Garden and Beach Villas, and not allowed in the Pavillion pool or the Uthuru Bar.
Meeru's house reef is only accessible by excursion, but their house lagoon so impressed me (as have some other resorts I have visited like Four Seasons Landaa Giraavaru, Kanuhura, and Velassaru) that I am going to change the Maldives Complete house reef categorisation. I think that there needs to be a category for 'Weak House Reef, Good Lagoon'. The lagoon is filled with lots of coral croppings (that Meeru is adding to with an active reefscaping project) as well as lots of big and colourful fish.
Certainly a the resort is a candidate for 'Best for Dolphins'. Rasheed Mohamed, who took me around, boasted that their dolphin excursions have a 95% success rate in sightings. Lo and behold, on my boat transfer to Meeru, we came upon a giant pod of dolphins with dozens cavorting and swimming around the ship. The captain pulled up and we just sat and watched them for a good long time. Then when we pulled off again, the dolphins loved riding the waves made by the ship's wake behind us.
A natural charm.