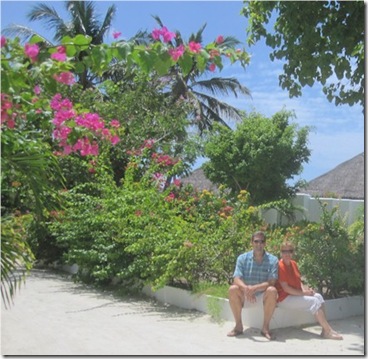 You never forget your first time.
Lori and I returned to the first ever island that we visited in the Maldives back in 1996. Back then it was the 3 and half star 'Laguna Beach.' Simple, but enchanting for us first-timers. It wasn't the perfect resort, but it seemed perfect to us. One of our recommendations is to go to the most basic resort you think that you can tolerate on your first visit to the Maldives. The Maldives have so much beauty and delight to take in, if the resort piles even more on top, it is almost too much to take in at once.
On our transport over there, we felt like we were going home, but you know the adage, 'you can't go home again.' Certainly not to Laguna Beach. Universal Resorts has since completely overhauled it into a dazzling 5-star gem renamed 'Velassaru'.
If the W is over-engineered, over-priced or just OTT for you, the Velassaru offers a cut-rate version of a glossy, stylish, modern 5-star. Velassaru is less than half the price of the W Retreat. Kind of 'V' as half a 'W'. The one area where Velassaru does best the W is with the glass floor in its top room. Velassaru's Water Villa Suite boasts a 138 square foot glass floor beating the W's top floor of 100 square feet (it also boasts one of the longest private water villa pools at 100 feet).
Another thing that Velassaru did better than the W was its desk location. Like Four Seasons Landaa Giraavaru, they have placed the desk behind the bed, facing outside. I have only seen it in a few resorts, but thoroughly applaud it as someone who regularly has to be on the computer and do work during my stays. It's bad enough if you have to be on the computer or even work in paradise, but most of the resorts add insult to injury by placing the desks in some back area facing a blank wall, making you feel even more like someone being punished.
One thing we remembered so fondly about 'Laguna' was its colourful landscape. We have not yet come across an island with such dense flowers as we remember from Laguna (Vadoo is close with its two gardens taking up the better part of the island). While not quite as concentrated, there are still lots of flowers lining the paths, especially a hyper-abundance of multi-coloured bougainvillea.
The colours don't end with the greenery. Velassaru could make a case for a 'Best for Turquoise' award. It is surrounded by an extended, shallow, sandy lagoon which produces a dazzling azure blue everywhere you look. On the water villa side, the lagoon extends over a mile. We still remember snorkelling that part of the island with our small children. Even though the water was only waist deep, we were well over a half mile from shore and felt, 'Hmmm…maybe it's time to head back.'
While completely transformed, it was certainly a treat to head back to Laguna in its new guise as Velassaru.