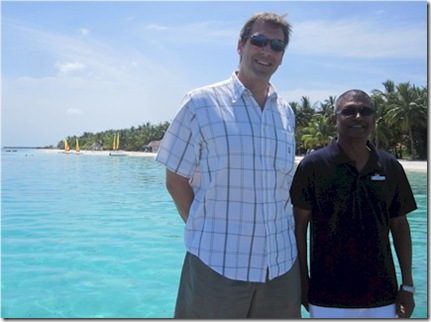 Welcome by Abdul Samad Ibrahim to Club Med Kani
Activity Central, Maldives.
Many resorts seem to tick the box by offering a night time DJ, local band, traditional dancing or the like. It always seems a bit depressing when so many times these events are so sparsely attended. At Club Med Kani, these events are always hopping with enthusiastic and 'join in the fun' audiences.
And it's not just night time that people get bopping. When I arrived at lunchtime, the water aerobics was just beginning. Perky announcements were blaring from the loud speakers around the common areas repeated in half a dozen languages. Then a hard driving club beat came over the sound system and no less than 30 people aged 5 to 75 jumped in the pool and started moshing to the instructions of a couple of fit youngsters.
The energy is pulsating constantly. No fear of boredom here. Lots of laughter and chatter everywhere I went. "Friendly and convivial" is how the resort was described by Chief of Village, Ryan Leach.
Club Med Kani is not for lovers of quiet unless you sequester yourself on the premium side of the island. Like Kuredu and Meeru, Club Med Kani has segregated a part of the island for a more premium product. It is not officially classified as '5 star', but all of the design criteria are 5-star quality. The trademark boisterousness is kept to a minimum down that end, it seems.
High octane fun.