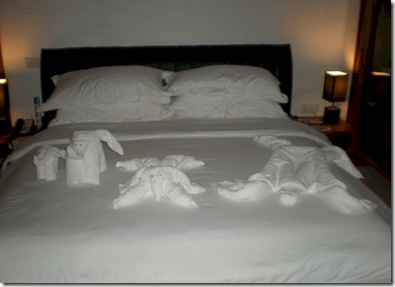 Bed decoration has been a delightful service in many tropical resorts and it seems particularly popular in the Maldives. You often feel a tinge of sadness to leave the outdoor paradise for your indoor lodging, but arriving to such an artistic treat is like a bit of paradise indoors.
I've already featured a piece on bed decoration after culling through hundred of examples where a Meeru example came out the most exquisite. But now I'm alerted to a whole new genre of bed decoration pioneered by Kuramathi with stunning impact – towel sculpture. Check out the charming examples above from Vicky Kafala.
Kuramathi is no slouch in the bed decorating department either as the photo below testifies. I think they have taken this whole tradition beyond simple decorating to an art form in its own right.
For some cutting edge hotel room 'bed art', check out MSNBC's report on the creations of Bert Kreischer, host of the Travel Channel's "Bert the Conqueror" television show.