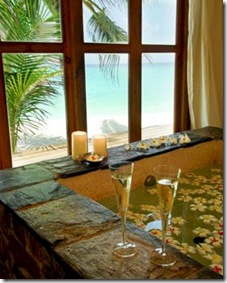 The Royal couple of WIlliam and Katherine are now married and the honeymoon beckons. No word yet on the destination, but the Maldives are one of the world's top honeymoon destinations. With everywhere being such romantically tropical paradise, how does one choose the most quintessentially romantic spot. There are lots of criteria to consider, but if the ultimate chill-out after the manic wedding build-up is called for, then I know of no more romantic spa treatment than Kuramathi's couple's massage.
The couples massage experience is a fairly standard offering across the Maldives. Throw two tables in a room instead of just one and, voila, a treat you share 'together' rather than queing up after each other or retiring to separate quarters.
But Kuramathi have gone that creative step further. After your resplendent couple's massage, the two of you are taken to another treatment room where a gigantic bathtub is filled with a bubbles, sprinkled with flower petals and accompanied by not only glasses of sparkling wine, but also a chocolate fountain with tropical fruits. The couple are then given the key to the room so they can lock the door from the inside and they can enjoy a further hour at the spa in sumptuous privacy.
Friends of ours recently returned from their honeymoon, which we had helped them to research, and told us all about their magical afternoon at the spa. Genius.