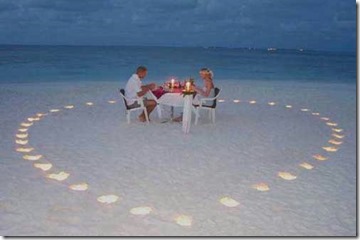 The most frequently claimed (and most stubbornly reluctant I am to accord) is the "Best of the Maldives" for "Most Romantic". On this last trip, Bandos pointed to its "Most Romantic" credentials (including its TripAdvisor Travellers Choice Awards), and Jumeirah made an impressive case for its Dhevanafushi property. Such claims always get me the most sceptical. I try to mask my cynicism when I ask "Are your sunsets more golden, your starlight more twinkling, your palms more rhythmic in their swaying??"
"Best of the Maldives" is is more rhetorical than scientific, but I do try to put some rigour into it. I try to have something objective and specific to hang my hat on as to why one's feature is a touch more distinctive than another's. And the more esoteric and specific the better. I will more readily accept that someone has a unique toe nail scrubber in their spa. But the the bar is so obscenely high for "Most Romantic" in the Maldives, I wonder how resorts could possibly stand out from the crowded field.
What does surprise me, and another thing I haven't yet seen in the Maldives, is really the "uber" Honeymoon package. Perhaps it is the American "OTT" (Over-The-Top) in me, but I wonder where is the resort that has just blown the door off of a honeymoon package.
I don't know any islands that even do the following which are popular honeymoon treats…
Mirrored ceilings (and other Poconos inspiration)

Breakfast in bed service (room service tweaked to be in bed with bed trays and the porter letting themselves in, after knocking of course).

In room chocolate fountain one evening (

chocolate fountain at Kuramathi

spa is inspired, but having it in the bedroom even more so).
Lots of resorts offer lots of the usual suspects in honeymoon packages – bottle of champagne, beach dinner, bed/table decoration, couples massage. But I don't know any that combines them into one big 'Honeymoon Ultimate' package. The biggest honeymoon packages probably offer about a third of the list below which lists the most common ingredients in resort honeymoon packages.
Different bed decoration every night (most do one night)

Deserted Island picnic lunch and then dinner on another day

Candlelight beach dinner every night (most do one night)

Special couple spa treatment (with Kuramathi's approach as a role model or perhaps Four Season Landaa Giraavaru's

romantic treatment

)

Vow repeat/renewal/blessing

Champagne sunset cruise

Villa with private (secluded) pool

Reef generation frame to mark the occasion

Wedding photography
Maybe resorts feel that they already offer such a perfect honeymoon destination, certainly renowned as one of the tops in the world, why pour lots of money in gilding the lily. The two primary reasons would be to stand out against the huge competition from the many other resorts which share this uniformly romantic place on earth. The other obvious reason is to make money by charging for the super package.