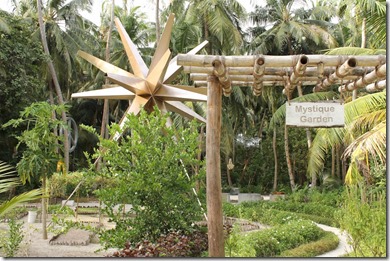 "What an artist is trying to do for people is bring them closer to something, because of course art is about sharing. You wouldn't be an artist unless you wanted to share an experience, a thought." – David Hockney
At most resorts, the staff give at bit of themselves every day to make the visit by the guests memorable and distinctive. At Amilla Fushi, this investment is expressed indelibly in a unique exhibition of creativity and personality.
The Mystique Garden is a chef's garden where you can enjoy special meals prepared and served for you al fresco. But your nook is more than the lush greenery of an equatorial paradise. It accented by a collection of striking art works suspended in the tropical canopy. These pieces are the works and gifts of the resort staff themselves.
When the property was near completion and the new team of staff being assembled, the management got everyone together and presented them with a challenge to design and produce pieces of sculpture to adorn the Mystique Garden. The resort provided any tools and materials that they needed. The staff were assembled into department teams as the project was a way to bring the group close together prior to the opening with a focus on thrilling the impeding guests with something out of the ordinary. The teams worked for over a month and the top pieces were selected for inclusion in this open air gallery. The pieces featured and the teams that created them are…
Chandelier by Management

Morovian Star by Engineering

Peace Sign by the Spa

Dodecahedron by the Front Office

Silver Mobile by Recreation
I've been to lots of chef gardens in the Maldives (in fact, with this post, I am adding a new tag for them "Chef Garden", but Amilla's is a bit extra-magical, surrounded not just by the natural beauty of the location, but also by these inspired pieces which offer a personal welcome from the hearts, minds and souls of the resort team to their guests.