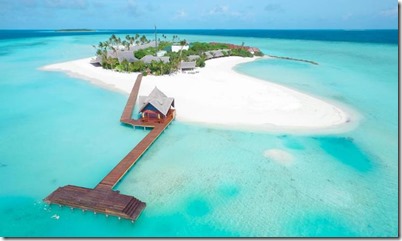 The first thing that hits you about Dhigufaru is the beach. It leaps out of the promotional pictures when you are researching and planning your visit (see above). And its vast expanse of dazzling white hits you again as soon as you step off the seaplane.
Many resorts make bold claims about being the biggest or the best. Often these aspects are quite subjective. I might consider a "Best of the Maldives" piece if they have something substantive to hang their claims on, but sometimes I can get some real numbers for comparison sake especially for Geography superlatives (eg. Biggest Island, Lowest Population Density). So I took out my trusty calculator (spreadsheet) actually to estimate what portion of the Dhigufaru island was actually beach. The resort wasn't making any claims about it, but I was.
By my calculations, the island is 42% beach by square metre which is the top of any active resort I can find (the runners up were Rihiveli, Gili Lankanfushi, Cocoa Island). If you are looking for that plot-of-sand-with-a-palm-tree aesthetic (pile of sand, a little vegetation, and all set in a vast ocean), then Dhigufaru is it.