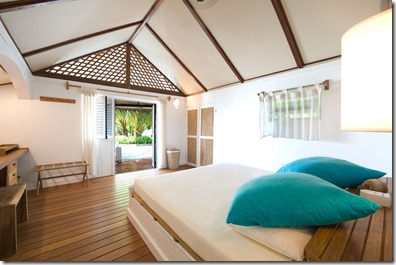 People come to the Maldives to get away from it all. And at Rihiveli Beach, that does mean *all*. I characterise the Maldives by saying "You know those tropical island cartoons with a plot of sand and a palm tree…that's the Maldives, a thousand of those." Admittedly a bit of an exaggeration but an effective caricature. As the Maldives tourism industry has developed now you can go to islands with towers, golf courses, gourmet restaurants, water parks, 9-bedroom villas, etc. In the wake of this expansion and development, a hardened cadre of Maldives purists yearn for the simpler days much more approximating Gilligan's Island than Thurston Howell III's estate.
I am usually writing about special things that resorts have, but Rihiveli is distinguished by the things is doesn't have…
Mini-bar
Outdoor shower
In-room Internet (and the wifi in the Reception and Bar I pretty ropey)
In-room safe (you can lock things in a safe at Reception)
Phone
Clock
TV
Pool
And I haven't even mentioned the biggest one – no Air Conditioning. As I mentioned in my tour review, this was the biggest challenge for us especially as the weather was particularly toasty and the breeze unseasonably calm. Our pragmatic solution turned out to be downright romantic (in a clean and decent way) as we slept on our loungers under the stars for one of the most memorable nights of the trip if not all our visits to the Maldives. But if such al fresco snoozing is a bit too exposed for you, then there is actually salvation at hand on the island. 13 of their Standard Bungalows (namely – Boova, Bouraki, Carangue, Cardinalia, Cassis Nana, Dauphin, Demoiselle, Dentice, Digumas, Diodon, Diodora, Donax, Donhica) and their single Deluxe Villa (Escondida) do have AC. The Standard rooms with AC do have a $35 supplement.
You might be asking yourself, "what is actually there?"…
Hot Water Showers
Kettle
Comfortable Bed
Ceiling fan
Yep, that's about it.
So why would anyone put up with such limitations?
Value – The property is one of the most affordable of the resort islands.
Get Away From It ALL – Especially technology. If I had kids addicted to technology, I would bring them here. They wouldn't be able to check their phones most of the time.
Authenticity – The closest to living the traditional Maldivian lifestyle.
Island – Rihiveli is simply on of the best neighbouring-island/lagoon combinations in the Maldives.
With the ample bar, delicious food, water sport centre, Balinese spa, etc., it's not exactly Bear Grylls material, and it might be just the type of escape to paradise you are looking for.