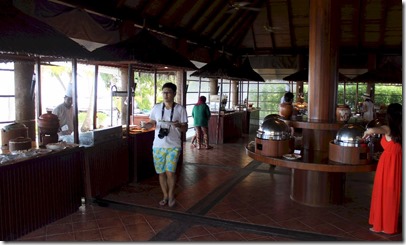 I'm pretty flexible on the quality of my villa (I've always said that you could sleep in a cardboard box in the Maldives and it would be a 5-star experience) and don't need many amenities or recreational distractions laid on (happy to put on my snorkel in fins any time I'm a bit bored), but I do enjoy my food. Mind you, it doesn't take much to lay out a decent spread in the Maldives – freshly caught reef fish, tropical fruits, a simple pasta station (or egg station for breakfast). But I do appreciate it when the resorts treat me to something a bit tasty.
Medhufushi features quite possibly the best value buffet in the Maldives. The resort positions itself as 4-star, but the food punches way above its weight class and is absolutely 5-star cuisine. Reminded me of Mirihi back when it was a 4.5 star, but served up gourmet food. But Mirihi is now 3 times the price of Medhuifushi! And there are a couple of 5-star properties (including some where people raved about the food in the reviews) that were nowhere near as good as Medhufushi.
Here are just a few notes of the fine dining we enjoyed during our brief stay…
Chicken Laksa – Possibly my favourite soup of the trip. Rich and flavourful. Made to order with vegetables and eggs in the bowl that the broth is served over.
Tom Yam Seafood Broth – More delectable soup.
Tuna Sashimi – Not the sushi which you can find at 4-star buffets but it mostly rice in seaweed wrap. But rather prime slices of fresh tuna.
Tenderloin – Perfectly cooked medium-rare at the roast station.
Tandouri Chicken – With Nan bread cooked fresh in front of you.
Curry Variety – Another "Best of the Maldives" post coming on this. My favourite was "Beetroot Curry".
Rice Pudding – With Sultanas almost like my mom makes (she uses raisins). Second best rice pudding I have had in the Maldives
Ice Cream – Variety to rival super-luxury property Soneva. Here are a few of the flavours set out during our short stay – Earl Grey Tea, Passion Fruit & Yogurt, Peanut Butter, Carmelised Banana, Raspberry and Lime Sorbet, Lime Sorbet, Kiwi Sorbet, Apple Sorbet (Lori got just a bit addicted to their ice cream bar).
Coconut Cake – Why isn't this served more extensively??
Mango Yogurt – And this too…why isn't this more prevalent on the buffets?
Mas Huni – Hard to say whether it is the "best" in the Maldives, but it is the only resort that serves *two* types of Mas Huni.
Feel free to bring a big appetite to Medhufushi even if your wallet is a bit small.