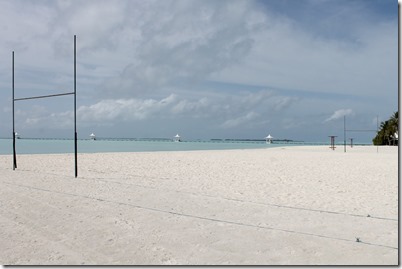 Dhigufaru might be the "beachiest" island, but Cinnamon Hakuraa Huraa is definitely the beachiest activity center. Hakuraa Huraa boasts its own impressive expanse of brilliant white sand (and when the tide goes out it more than doubles in size). Here is there impressive line-up of beach activity…
Beach Rugby – A few resorts play some beach rugby (eg. Adaaran Hudhuranfushi, JA Manafaru), but no one has a permanent pitch with goals and line markers in the sand (see above).
Beach Cricket – I've seen cricket played in the Maldives, but not Beach Cricket. Again, a permanent bowling area in concrete has been set in the beach.
Beach Darts – I've only seen this at a few resorts.
Beach Volleyball – Ok, lots of resorts have this too and Hakuraa Huraa's is a nice set up.
Beach Badminton – You can find this at several resort, but most resort that do offer badminton offer a hard surface court. The beach would make it harder to run, but could make for some crafty strategy (getting someone out of position is all the more valuable) as well as some heroic diving saves.
Beach Football – And this is common, but not to be left out here.