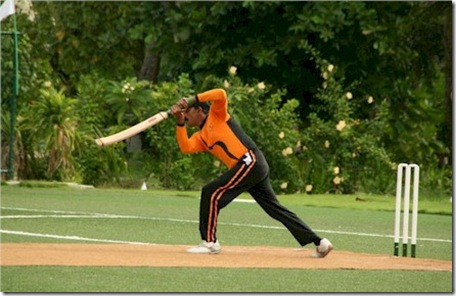 Maldives may not be a 'Test Status' cricket nation, but they love their wickets as much as their Subcontinent neighbours. Their closest Indian Ocean neighbour Sri Lanka is right in the middle of a Test Match with England at this very moment.
If you fancy a few overs, either watching or playing, then Kuramthi is the pitch you want. Their staff have an active team that competes across the country and they welcome resort guests to join in or simply sip their G&T's from the side.
Asma Rasheed of the resort describes…
"At Kuramathi we have a football pitch with doubles up as a cricket pitch as well. 4 days the team plays futsal and 2 days they play cricket. Guests are welcome to join if they wish (and often we will have a couple of guys joining, but mostly for the futsal than cricket I have to say).
We also hold tournaments, at least once a year. This is exclusively for our team. In March we had our futsal tournament and most recently we had the cricket tournament.
We also have occasional friendly matches between other islands. Over the last 3 weeks we have held a friendly match against Dhiraagu (Telecom Company of the Maldives), islanders of Rasdhoo (our neighbouring local island) and today, we had a match against Veligandu team (another resort in Rasdhoo atoll)."
The pictures here are just a few taken from Kuramathi's Facebook album of one of their recent tournaments.