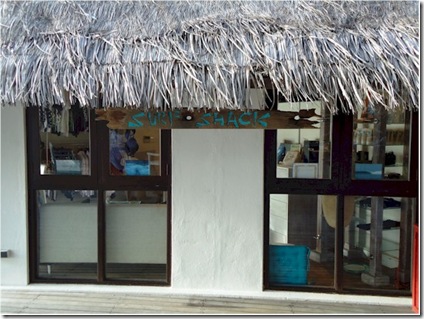 Plenty of great surf spots in the Maldives (even more if you do kite surfing), and a number of resorts offer surfing equipment and instruction, but there is only one 'Surf Shack' around – Four Seasons Kuda Huraa's TropicSurf.
The Surf Shack sells a whole range of surf gear. It also provides video analysis as part of its instruction offerings. But it really just has a whole surfing vibe to it.
A great example of its surfing vibe and great offerings is its recently announced its 'Champion Trophy Package'. Maldives.Net reports…
"The Maldives is set to host the world's most exclusive surfing event this August. The event organized by Four Seasons Resorts Maldives, will feature six world champions, a leading five-star surfing resort, a luxurious 39-metre three-deck catamaran, and the perfect reef break waves. Conceived in conjunction with luxury surf pioneers Tropicsurf, the Four Seasons Resorts Maldives Surfing Champions Trophy will see the sport's biggest legends such as four-time world champion Mark Richards compete across three disciplines that showcase the evolution of modern surfing."
So if you are a hang-ten pro or a even bit clueless on the surfing front (like this lot), then head over to the Surf Shack.