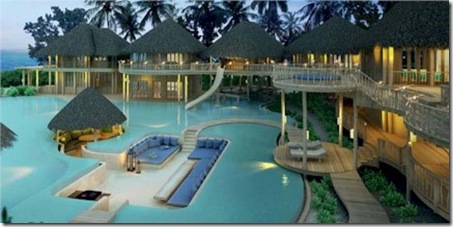 The Maldives has always been a bit of an opposite to Hotel California. You could check-in any time you like, but you could never stay.
Not just the tourists, but the resorts themselves are on long-term leases and don't actually own their islands. But in a bid to boost the economy, the Maldives is cautiously venturing into residential purchases. You can't actually own the property 'freehold', but they are offering 'leaseholds' (most Americans won't be familiar with 'leaseholds' but they are a common structure in the UK and other countries. They are essentially an 'option' on a long-term, decades, 'lease' of the property that you can buy and sell like the property itself and work almost the same as owning the property itself).
The first place to pioneer this new opportunity is Soneva Fushi reports Phuquet Insider…
"The first leasehold residential property that has been transferred on a leasehold basis in the Maldives has sparked interest in the islands property market. A three bedroom hotel managed unit at Soneva Fushi, which transacted to a French national sold for USD7 million dollars has been officially registered. Last year the country enacted legislation in order to allow foreign property ownership to a maximum of 50 years in order to stimulate the local economy."
A complete property spec on the six five residences for sale are featured on Ilre.