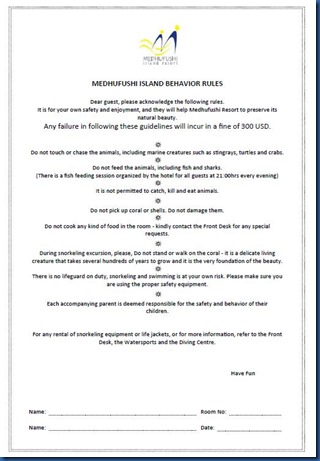 The first principle to saving the planet is personal responsibility and no resort fosters more than Medhufushi with their inspired guest "contract" of "behaviour rules". When I coached rowing at Sir William Borlase's Grammar School, the programme introduced a very similar contract for all the athletes to sign. It put down on paper important responsibilities and forced everyone to give it more than a fleeting consideration as they were putting their signatures on it.
One of the biggest obstacles to a more sustainable lifestyle is people simply not knowing the adverse impacts some seemingly innocuous activity can have. One of the most prominent examples is STANDING ON THE CORAL. To the uninformed, lots of coral can appear like simply underwater rocks. But despite their stony exoskeleton, they are indeed living animals (not even plants) and standing on them hurts them and can kill them.
Even if you aren't checking into Medhufushi, their guest rules is a handy guide to do's and don'ts anywhere in the Maldives:
Dear guest, please acknowledge the following rules. It is for your own safety and enjoyment, and they will help Medhufushi Resort to preserve its natural beauty. Any failure in following these guidelines will incur in a fine of 300 USD.
Do not touch or chase the animals, including marine creatures such as sngrays, turtles and crabs.
Do not feed the animals, including fish and sharks. (There is a fish feeding session organized by the hotel for all guests at 21:00hrs every evening)
It is not permied to catch, kill and eat animals.
Do not pick up coral or shells. Do not damage them.
Do not cook any kind of food in the room ‐ kindly contact the Front Desk for any special requests.
During snorkeling excursion, please, Do not stand or walk on the coral ‐ it is a delicate living creature that takes several hundreds of years to grow and it is the very foundaon of the beauty.
There is no lifeguard on duty, snorkeling and swimming is at your own risk. Please make sure you are using the proper safety equipment.
Each accompanying parent is deemed responsible for the safety and behavior of their children.