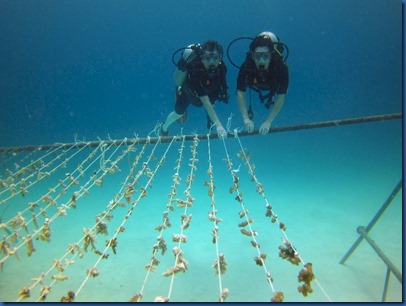 Earth Day today. Time to give back to the planet that gives us all so much. In the Maldives, probably the biggest initiative to strengthen the planet are the reef building initiatives to restore coral stressed by rising sea temperatures as well as outbreaks of COTS. Dozens of resorts invest in these reef regeneration projects, but I've never seen so many different approaches than Summer Island.
I've already written about their submerged Underwater Objects as well as their Coral Pops. They have also built a series of artificial reefs, the most recent being 15m x 2m x 4m constructed out of limestone rocks. Their latest innovation is a series of Coral Ropes. These serve as a coral nursery to incubate coral growth. Less than 2.5% die, and the ones that live are transplanted to the new artificial reefs:
"Three pipes are completely winded in rope (needed over 500 meters) and 2 in fishing nets that were removed from the surrounding reefs. The plateau is hovering (we placed buoys inside the pipes) and it's 6 meters long & 2 meters wide. The pipes are full of Durban dancing shrimps, Bruun's cleaning partner shrimps and banded boxer shrimps. In between the ropes we already fixed a lot of coral fragments that are all alive AND growing ! Basically a home for a lot of life and we made it hovering so that if there were any crowns of thorns, the corals won't be eaten by these damn creatures ! Underneath are limestone rocks where lion fish and octopii are hiding."
Reef Madness!