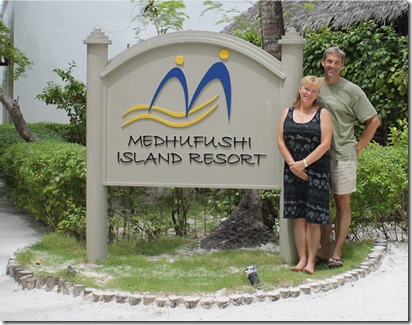 The Medhufushi resort itself is yet another unsung gem. I'm not sure what people are thinking about when they say no one can afford to visit the Maldives any more. Yes, a number of luxury marques have splashed out on billionaire playgrounds, but you don't have to stay there. Especially where there are resorts like Medhufushi that provide all the magic of the Maldives at incredibly reasonable prices.
Medhufushi isn't perfect, but with its 4-star rating, it doesn't profess to be. It is one of the older resorts and there is a bit of cosmetic wear-and-tear, like some frayed thatch and faded paint, in places. But, when it was brand spanking new, it was a 5-star and priced as such.
So what do you get?
Classic thatched rooves and other touches provide that exotic aesthetic.
Villas have big and tall windows so you still enjoy the outdoor scenery when you retreat to the AC of your room. And the 4-poster bed provides a bit of added charm.
5-Star quality food on the buffet. Seriously, stands shoulder to shoulder with any 5-star resort. And the sand floor adds more classic Maldive charm.
Expansive tableau of countless shades of blue into the horizon
Romantic infinity pool facing the sunset.
Overwater bar, overwater spa and overwater a la carte restaurant.
Werner Lau dive centre (Werner Lau was a Maldives diving pioneer and his centres are world class).
Stocked water sports centre (with the management planning on investing even more in this area).
Top flight surfing. I thought I had identified all the surf resort in the Maldives so this one surprised me. The resort itself doesn't offer surfing directly, but there is a major surf spot and centre right next door that guests are able to use and many keen surfers come to Medhufushi regularly just for this attraction.
Everything above are 5-star attributes. So what are the trade-offs preventing this from being a top flight 5-star property?…
House Reef – As always, you can take snorkel excursions to great spots, but the expansive shallow lagoon is not the best for the snorkelling fanatic who wants to snorkel constantly on easily accessible drop-offs every day of his visit.
Internet – A true 5-star would have strong wifi throughout the resort, including the rooms, for free. At Medhufushi, you buy coupons ($15 for 12 hours of aggregated access with download limits) and they only work in the bar and reception.
Newness – The resort is of an older vintage. They have actually done a fine job in keeping most of the villas fresh, but you can't help noticing the bits of fraying and fading in parts.
If snorkelling and the Internet are not preoccupations for you and not everything has to be sparkling new and groomed, then Medhufushi is a brilliant opportunity to tick the Maldives off your bucket-list of dream vacations with property that is still 5-star in so many ways, but at an affordable 4-star price.