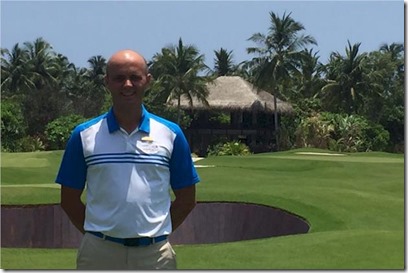 If you need a hand following you around the golf course with your game, Velaa resort offers its very own resident golf pro – Christopher Snape. He can wield Velaa's armamentarium of space-age analytical tools or just join you for a round.
We caught up with Christopher to tap into a few of his tips and insights into playing in paradise…
How did you find yourself on a Maldives resort?
I work for TROON golf who operate the Academy here Velaa. When I was asked by them if I was interested I practically bit their hand off at the opportunity.
What was the most luxurious course you have played prior to Velaa?
Many courses, what I classify as my second home would be Praia Del Rey in Portugal where I spent 6 years as the Professional.
What is your favourite caddie tip for people playing the Velaa course?
Be conservative with your approach shots, if you take on shots and don't play them to perfection you will be punished.
What's your best score playing the course?
When we have low handicapped players in residence we play a very tough formation my best score around that formation was -2.
What are people most surprised about playing the Velaa course?
The quality of the playing surfaces and the beautiful landscape
At the FOOOOREfront.