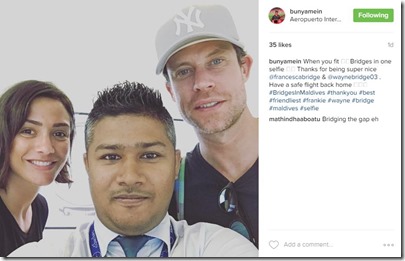 Yesterday's National Day celebrates Maldives independence from foreigner control, but one countryman – Bunyamin Ahmed (known to many as "Benjo") – has become a one-man photographic greeter of famous foreign guests to the Maldives. His Instagram feed is a must-follow for celebrity spotters. Especially if you can't even recognise them. He has an uncanny eye for the glitterati who flood into this paradise destination as apparently an unmatchable charm to get selfies with them. He's snapped singers and models, but his true forte is the footie.
Men post to blogs and Instagram about 10 times less frequently than women. But Ahmed is one feed which redresses that gender balance catching some of the only pictures of the superstars blokes who visit.
Male's Velana International Airport (MLE) is arguably the best celebrity spotting place on the planet. The fabulous and famous are drawn to the country's postcard perfect islands and all pass through its small single room arrival hall. Every visit we spot some well known personality loitering by the baggage claim next to us.
Maldives Complete caught up with Ahmed for another exclusive interview about his luminary lens…
1. Where are you from in the Maldives? – I'm from Male' City, the capital of Maldives.
2. What is your job? – My celebrity hunting began back in 2006, when I joined Island Aviation as a Customer Services Assistant. Left the job in 2012 and in early 2016 joined Srilankan Airlines as a station assistant. That's my current job.
3. Who was your first photo? – Gianluca Zambrotta, Ex- Italian National team defender. 10 days in to my job, back in 2006. I got so excited. Since I've been seeing these people in video games and on TV. I wanted to make a huge collection of all the famous people I get to meet. Still gets star struck every single time I meet someone famous. Still gets the shaky feeling when I click pics for others too.
4. Do you have a standard way to approach celebrities passing through and ask for their picture? – Yeah of course, I just don't ask them out of manners or respect. Always look to give the respect they deserve. Normally I approach them right away or while they are at the baggage belt waiting for bags (that's how I approach if I'm to meet them on arrival to Maldives). If I meet them on departure, I try to give them the space they need to finish check-in first, or other times depending on the personality or the particular celebrity's mood I ask for autographs while they are at the check-in counter (subject to the check-in queue of that particular flight he or she is travelling on) and then if nice, start a conversation and ask for pics. Rejection doesn't faze me. Not trying or not having the guts to ask does. Because if they agree it's a massive success and if they don't there's nothing to lose. Whatever you get is a bonus.
5. Which celebrity were you most pleased to meet? – One of the best days was when I got to meet my fav club Manchester United's boss Jose Mourinho. Also getting to meet one of my fav model Devon Windsor and today I met my fav all time singer Frankie Bridge (1/5 of British girl band The Saturdays). Those are few great days.
6. Who would you most like to meet? – I've got so many names for that question. Two big names I've met but no pics, since they are big big football stars. Guess who they are – David Beckham (my all time fav footballer) and Cristiano Ronaldo 😉 . Would love to meet Sir Alex Ferguson one day and pics with both Cristiano and Beckham too. To be honest, my 'dream list' is very long. Every Man United squad player is a dream (lucky enough have met some of them). Also big pop stars such as Taylor Swift, Rihanna, Ariana are few names. Some big names among Victoria's Secret models are also in my list, like Candice, Behatii, Adriana. So many I don't know where to stop.
7. They don't appear to be selfies, so who takes the pictures? – Good question. That's right. Not selfies but I got selfies some of them too, but that's after taking a proper pic. Since I worked as a Customer Services Assistant at Airport Company before, I still got friends working there. So those friends, namely Nadheem, Evan and Mazin knows how my pics has to be, coz I don't settle for just anything. Quality has to be super good. Cheeky part is sometimes the celeb partner take pics for me too. Remember Italian soccer star Francesco Totti's wife taking the pic for me. And most recently today Wayne Bridge (ex-England defender ) took the pic of his wife Frankie Bridge for me. Frankie and Wayne who I met this morning are by far the most amazing, down to earth people of all [see photo above].
8. Do you have any tips for other celebrity spotters on how to ask for a picture? – Indeed. I'm pleased with my very own success rate. I believe my technique is the key (just kidding) . I don't want a pic with a celebrity at any cost (except for very big names :p ) Since I'm not a paparazzi, I want them to willingly pose for a pic with me, which doubles my happiness. Actually you need to ask with respect. I always use the first name when addressing to celebrities. I've got likes from many celebs on Instagram for their pics with me. So I advise not to feel them disturbed or annoyed. Just make them feel comfortable.