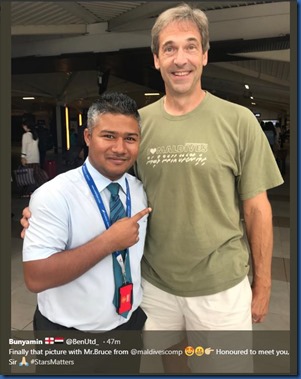 #BucketList. No not a trip the Maldives (that bucket is overflowing now). But getting my picture taken with the legendary Bunyamin Ahmed. Being Friends on Facebook, I anticipated the encounter with my own twist on his iconic pose (see below).
The meeting was the sunniest part of a very inclement arrival. Rain was pelting down on Male airport so hard that the Turkish Airlines flight had to divert and wait for it to settle. But like most rainstorms in the Maldives, this was just passing through. In fact, when we passed the airport into the adjacent South Male atoll, the weather was quite sunny. The pilot took a 15 minute loop and tried again for a much smoother landing that we would have had otherwise.
Thus begins Maldives Complete's 9th annual tour of resorts (our 15 visit to the Maldives overall).
I will also be doing my traditional micro-blog report on the TripAdvisor Forum with a snapshot profile of the following key points of each resort and stay…
Ambience (first impressions and overall feel)
Snorkel Spotting (what I saw snorkelling)
Favourite Food (served)
Weather (always a popular topic)
First World Problem (the most petty criticism I can find)
Most Reminded Me Of (comparing it to another resort)
Learned Something New (fun fact of the day)
Welcome Drink
Pina colada test (one of our acid tests as this simple treat varies so much from place to place)
Bring on paradise!