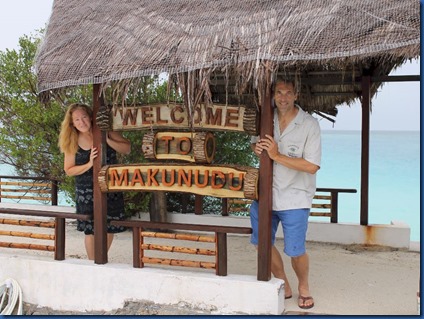 Maldives Classic. A great way to start off was to visit a resort that evoked so much of the classic Maldivian character that we have fallen in love with over the past two decades. A number of resorts claim to have indigenous inspiration and plenty have touches drawn from the local aesthetic, but few have been so completely infused with the style and materials of a traditional Maldivian village as Makunudu.
I remember describing the Komandoo villa, with its homey feel, as a friend's beach house we had been invited to visit. Makunudu had a similar feel, except that the owners of the beach houses are Maldivian. It feels like these villas might have been houses built generations ago with traditional techniques (eg. weaving, tying) and materials (eg. thatch, bamboo), but have been updated over the years with the contemporary amenities. Like a French auberge, English cottage, or Swiss Chalet with fitted with modern conveniences.
The resort actually has undertaken some relatively recent refurbishments which are extremely astute. First, smartening up the bathrooms. Some refreshed stone and slate with updated fixtures (eg. rain showers) give this important room a fresh feel. But perhaps the best investment was their purchase of not only highest quality beds, but also mattress toppers (literally) on top of them all (literally) wrapped up with high thread count bed linen. The bed was simply one of the most comfortable I have slept in.
What they did not fritter away money on are amenities that not only do many Maldives fans find unnecessary, they actually find them to be a detraction – TV, gym, buggies.
I didn't know that much about Makunudu before my visit. I think that is because it was a bit older and until the arrival of new management this past year, had not kept up. But the new management has really made some sound investments in the right places to make it a very compelling 4+ star option. I haven't written a single "Best of the Maldives" piece about Makunudu to date, but I am coming away with lots of post material for the future (stay tuned).