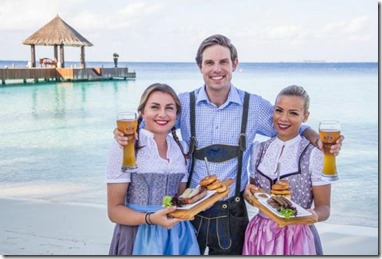 München in the Maldives. Jumeirah Vittaveli celebrated a colourful festival of its own during this eponymous month – Oktoberfest.
"Jumeirah Vittaveli is proud to announce their collaboration with an authentic Bavarian costume designer – Daniel Fendler has been designing stylish 'Tracht' for more than 15 years…Guests visiting beachside restaurant MU Beach Bar & Grill will be welcomed by waitresses and waiters decked out in authentic Bavarian garb – from Dirndl, over apron, to Lederhosen for the gentlemen. With the mood properly set for a fun day in the sun, the resort's 'Bierzelt-Bedienungen' (waiters/waitresses) will serve guests a selection of authentic Bavarian dishes such as Nuernberger, Frankfurter or Kasseler Rippchen, accompanied by a traditional refreshing German drink."
In fact, we recently helped host an Oktoberfest in our back garden. It is such a lively tradition focused on food, beer and music.
Prost! O'zapft.