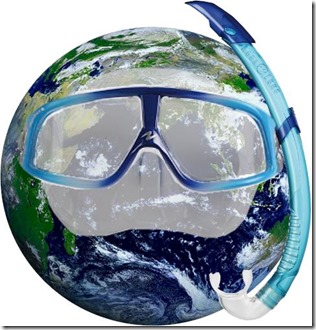 Happy World Snorkeling Day. The second annual day to honor the simplest way to literally immerse yourself in the undersea world. Maldives Complete has been the lead found and sponsor of this celebration given the Maldives' world leadership in all things snorkelling.
There are great places to snorkel all around the world (these are *not* some of them) of many varieties…
Reef Drop-Offs – These "house reefs" tend to be the "main event" especially in the Maldives where a prominent reef structure begins just a few metres swim from the beach. It combines relative ease of access (eg. no boat trip) with some of the variety and size of marine life of the more open ocean. For top spots, see Philippines and Indonesia
Lagoons – Typically a bit barren and sandy, they sometimes features croppings of coral in the infancy of reef creation. What they lack in larger species and variety of fish, they make up for in comfort and access of access. For top spots see Belize and the Caribbean.
Ocean – Underwater pillars (or "thilas" in the Maldives) rise up from the ocean floor in the middle of the ocean and often offer distinctive sights of creatures drawn by this submarine promontory. For top spots see the Red Sea, Galapagos and Great Barrier Reef.
One of the great things about the Maldives is that it features every one of these types. In bountiful number with its over a thousand islands and similar number of underwater reefs spread out across nearly a thousand kilometre long stretch. Resorts like Hurawalhi and Kuredu are hosting their own special Snorkel Days today.
And in the Maldives, it's not just the shoals of fish that dazzle, but the stylish fish-onistas as well who put the fashion into fins. Here are 66 from all over the world who have made snorkelling sexier than ever…