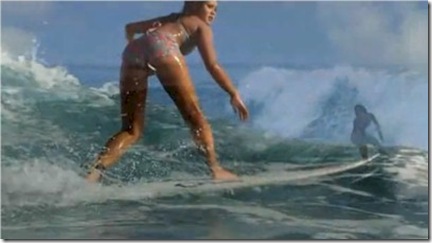 "Who would have thought to find a place so perfectly placed between the ocean and the sky." – Billabong model/surfer & singer/songwriter Catherine Clark
What a great way to describe the uniqueness of the Maldives. Describing its perfection for surfing, but really a key piece of so many things that he Maldives is world renowned for …
Honeymoons – The romance of a plot of pure white sand and a palm trees nestled in a tranquil turquoise lagoon.
Diving – One of the tops in the world for its endless coral reefs easily accessible by the 100+resorts.
Snorkelling – Arguably the

very best in the world

for reasons very close to Catherine's quote above.

Children

– Calm waters, shallow lagoons, contained small grounds, many activities.
One really has to add Surfing to that list things the Maldives tops the world as a top destination. Not big waves like Hawaii, but long, moderate breaks for extended rides. The pro surfing circuit regularly holds premier events in the Maldives now. I've had to break out a special 'Surfing' section from 'Sport' in the 'Best of Maldives' page because of all the special offerings resorts have brought out.
And of all of those resorts, Tropicsurf at Four Seasons Kuda Huraa is quickly becoming the epicentre of the surf Mecca. Their latest project was hosting the iconic Billabong Girls for an video 'diary' posted by Billabong, but now on video sites and surf online mags across the net. One of the best is the extended (17 minutes) piece featured in Surfing Magazine. The link on Catherine's quote above features her diary entry with her poetic descriptions of the Maldives, and there's 'Maldives Vibe' for a simple music video of the vibrant footage.
"It's really cool to have the pearly white beaches, then go into the icy-blue clear water that you don't have anny where else in the world." – Courtney Coulogne, US Women's Surfing Champion