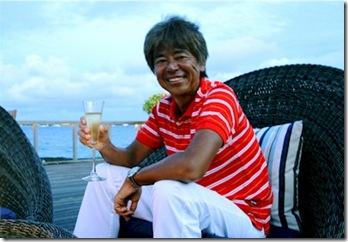 The December holiday season has been packed with all sorts of celebrations from festive Yuletide, big birthdays and even a milestone anniversary for Maldives tourism. The Maldives Marketing & Public Relations Corporation (MMPRC) is celebrating the 40th anniversary of tourism in the Maldives with a special photo competition of nostalgic images capturing the humble beginnings which have grown into a worldwide wonder (see photo below).
The genesis of it all was the Kurumba resort. So it was appropriate for Kurumba to play a big part in the celebrations (they are sponsoring the competition with 2 free nights as the prize for the best photo posted). All of that experience and heritage has made Kurumba a favourite for many. Our first stay there, we attended the weekly drinks evening for repeaters and the bar was packed.
But the champion repeater of all time is also a Kurumba regular – Mr. Mr. Yamagoshi. Mr. Yamagoshi has been to Kurumba 64 times! I haven't even been to my local pub 64 times. The picture above was taken at the Kurumba Beach Bar during an interview he did to mark the ruby anniversary of Maldive tourism.
The curious (and impressive) thing is that it took Kurumba some effort to figure out who actually was there most loyal customer as they have so many. At first they thought it might be the Mr. and Mrs. Rosenquist whose mere 53 stays at least probably warrants them most loyal couple. Kurumba interviewed them as well…
Kurumba: What keeps you coming back??
Rosenquists: Apart from the fact that during the time we lived in The Maldives Kurumba become a second home to us and we know all the staff well, I love the relaxed atmosphere of diving at Kurumba and the reef is good for both of us to snorkel on.
K: How many times have you been to Kurumba?
R: 64 stays though we did live in Male for a number of years.
K: If you had to name one thing that is your favourite, what would it be?
R: The wide choice of restaurants and the dive center staff
Congratulations to all the Maldives Resorts on this milestone anniversary and Kurumba for delighting so many for so long.