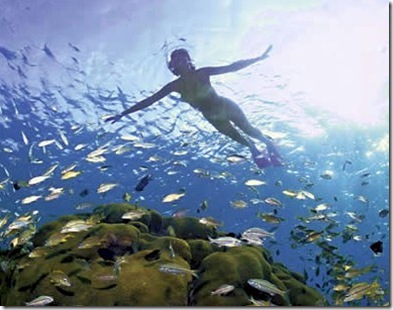 One of the first questions a true Maldives aficionado asks of a resort is 'How good is the House Reef?'
When I first heard the advice to seek out the best house reef, I didn't even know what a house reef was. We arrived at Laguna Beach (the resort that preceded Velassaru) and spent our days snorkelling around the coral croppings in the sandy lagoon. Then on an excursion to Bolifushi (soon to be Jumeirah Vittaveli), we went 'over the edge' and our hearts nearly leapt out of our snorkels. It is a truly dramatic experience to go from a few feet of water to a vast open expanse with a wall peppered with colourful coral and schools of tropical fish.
When I visited Vadoo, I got into a discussion with Assistant GM Alex Kovacs about great house reefs. Alex was proudly and valiantly making the case that Vadoo's was one of if not 'the' best house reef in the Maldives'. My wife and I had to have a go with that kind of endorsement and can attest that it is a thoroughly fine experience. I would call it a first class house reef, but I balked at his claim that it was 'the best'. I've covered 'house reefs' before including 'Best House Reef' (based on TA research), 'Best House Reef Drop-Off', and 'Closest House Reef'.
He then challenged me, what makes a 'great house reef'? I had some immediate responses, but it subsequently made me reflect on what it the characteristics really were. I came up with the following proposed list of criteria…
Drop-off (minimum 20 metre drop off)

Access (maximum 30 metres from shore to drop off)

Quantity and diversity of fish (especially '

Little Five'

)

Quantity and diversity of coral

Length

Low current (typically on the 'inner atoll' side of the island)

Warm water (this is a given in the Maldives and many tropical destinations, but not a guarantee at other snorkel spots around the world)