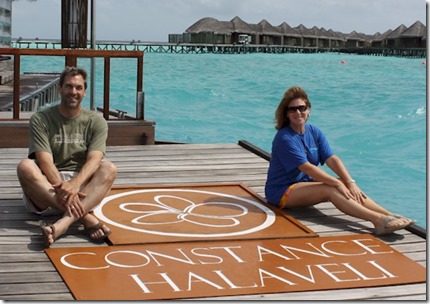 "It's very easy to be different and new, but very difficult to be better." — Jonathan Ive
If John Ive designed a resort, it would be Constance Halaveli. Elegant style that eschews gimmicks, tawdry frills or garish excess. The fundamentals done "just right". It was no surprise to find an innovative interactive television in each room driven (a strong "Best of the Maldives" candidate) by an Apple TV box.
I had been looking forward to seeing Constance Halaveli since it was commended to me by the previous tourism minister who said is was one of her favourites. She commented on the exquisiteness of the villa rooms modelled on dhoni boat shapes and its overall panache.
The 5-star category in the Maldives has become a bit of an arms race as resorts try to outdo each other with the latest underwater feature or doting butler service. But Constanve Halaveli shows how you can deliver flair simply and unpretentiously. Like Julia Child perfecting a poached egg.
Some people have high standards for quality and style, but are put off by fussy service and OTT offerings. Constance Halaveli is the place for them. It ticks every box except for house reef (and what you lose in easy off-beach snorkelling you gain in the richness of excursion sites in the Ari atoll).
No nonsense bliss.