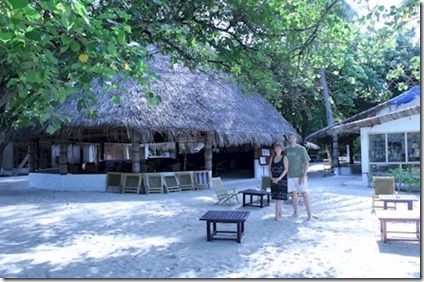 Going from Halaveli to Bathala is like leaving the striking, smart, fashionable head girl to date the wild petite one in ripped jeans, simple tshirt and a smoking hot bod.
Bathala is an increasingly rare breed known as the Maldivian 3 star resort. Do not fear. Bathala has all the true essentials – strong air conditioning, outdoor shower, ample bed, tasty food, and a clean room. There is just no spa, no fitness centre, no water sports, no tennis court, no TVs, no interior design (pink floors + robin's egg blue wall + burnt orange bedspread). There is not even a Bathala sign. We took our tour photo above standing in front of the resort instead. Yes, you heard me right. 'The resort'. You can see the entire resort (save the individual villas) in that shot.
But what it lacks in man-made infrastructure and decoration on the inside, it more than makes up for with an overabundance of natural beauty outside. Whether above or below the ocean's surface, its charms are the first, last and only thing on the daily agenda. Not everyone's cuppa tea. But some people's absolute fantasy.
The sea itself is a few feet away from the main sitting area (The picture above was shot from someone standing in the water). And the coral starts just a few feet in from the water's edge. And the drop off is only a few dozen metres beyond that (or you can jump right on to it from the rear jetty).
What a house reef it is. You can see why resorts from all around bring dive and snorkel excursions here to experience it. Lori and my snorkel was the best we have had in two years (since "Shark Week" at Kurumba). We've logged the big sightings on Snorkel Spotter already. We also dived the house reef and saw not only even more vibrant soft and hard coral and colourful fish, but also our first octopus since 2004!
Bathala is primarily sold in the Italian and more recently German markets, but in other countries you can book direct. From September through April, the resort is pretty near 100% occupancy so you would be hard pressed to squeeze into one of its 50 villas. But from May through August, it is less in demand and you have a real chance for a bargain opportunity to experience authentic paradise.
For old-school Maldives aficionados who bemoan the escalating gentrification of the resorts, Bathala is a dream holdout from a nostalgic time. A gem of old school Maldives. For anyone on a budget or who appreciates the purity, rush to Bathala (preferably in the off season), before this treasure gets buried under a revamp of inlaid marble and overwater massage rooms.
Back to the metaphorical…Some exotic single malt whiskeys are brewed in a simple, remote wood hut on a isolated Scottish isle and they pack a taste that smacks you around the face with gritty genuine uniqueness that is the unadorned intoxicating spirit of the place. That is Bathala.