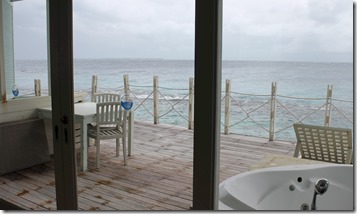 One of the most popular Bucket List items in the world is "Staying in a Maldives over water villa". And the nearly as popular obstacle is "But I never will be able to afford it…"
For some, just seeing the iconic plot-of-sand-and-a-palm-tree destination is a financial stretch. But there are still modest resorts on lovely islands (eg. Bathala) that we definitely within many people's reach (as long as they are willing to be happy with modest accommodation and simple, if not tired, décor). And with the advent of Guest Houses, even more budget options become feasible.
However, for some, the fantasy is more than the Bounty Bar island (one of my favourite terms picked up this trip from Hideaway Beach's Kat Anthony). For some, the dream includes immersion in the over-worldly turquoise lagoons in a nearly as iconic water villa.
For this reasons, water villas always command a premium (over their more pedestrian Beach Villa counterparts). A quick calculation through the Room Type database shows that on average Water Villas are 25% more expensive per square metre than Beach Villas. Furthermore, the lower end islands tend not to have them so they tend to reside in the high rent corner of the market putting them that little further beyond reach.
But J Resort Alidhoo is offering their water villas at exceptionally affordable prices. The resort has been waiting for some investment in their infrastructure and cosmetics and so it knows it doesn't have the flashiest product and most comprehensive services. But it is making up for it by being extra competitive on rates. In some deals, you can get a night in a water villa for $300…full board! You struggle to get modest, tiny hotel room in London, McDonalds Breakfast, Subway lunch and Harvester dinner for that price in the UK.
And the rooms are quite impressive. Yes, they could do with a fresher paint job for 5-star aesthetics, but they don't look bad. The thatch roofs are in dire need of a refurb, but that looks worse that it is (the thatch is only decoration and just because some palm fronds have been blown off, doesn't mean the roof is any less weather-proof). Still, if you do secure a J Resort Alidhoo, I would make sure you have travel insurance and be prepared for things go a bit awry (as anything could happen if they do secure investment and they might shut down for renovations). But if all goes well, it could very well be the bargain of a lifetime for the dream vacation of a lifetime.