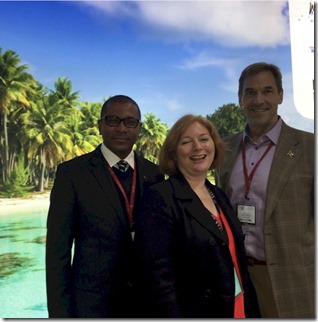 Yesterday I got to take my annual train trip to the Maldives. Well, the Maldives booth at the World Travel Market (WTM) London. The ExCel centre event is a chance to both catch up with a range of Tourism Ministry and resort staff as well as to meet new faces on the scene. Above is Maldives veteran Kat Anthony (above centre) of imminently opening Milaidhoo resort who I have known for years.  In fact, she has been such a long time resource for Maldives Complete, that I have added a "Kat Anthony" tag to the blog.  She is flanked by a new acquaintance, Amila Handundwala (above left), of another new resort, St. Regis Vommuli.
It was great to learn about some of the newer resorts – St. Regis Vommuli, Milaidhoo, Furaveri, Cocoon, Dhigufaru, Malahine Kuda Bandos, Kandima, Ozen, Outrigger Konotta. The hot atoll appears to be Dhaalu with a murmured 12 new resorts scheduled for development (including several from the NIYAMA family).
Lots of colourful material to add to the profiles over the next few days and some great "Best of the Maldives" material ferreted out. Stay tuned for even more exciting developments from paradise.