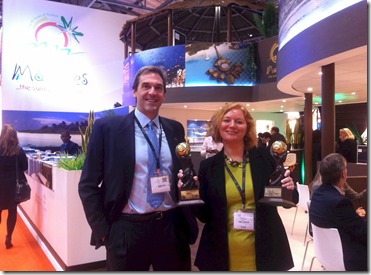 While Maldives Complete is my virtual world outlet for experiencing a bit of paradise when sequestered in the damp and dank boroughs of Britain, but once a year I get to inject a bit of real-world Maldives into my life. That is the annual World Travel Market where the Maldives Marketing and Public Relations Corporation comes to town with its marquee stand.
I always visit to saw hello to a few MMPRC and resort friends. But this year brought the added bonus of a "meetup" with some of the TripAdvisor Maldives Forum digital comrades. Pictured above is the TA and Maldives veteran Katherine Anthony holding the two awards won by her resort Ayada – "Leading Resort in the Maldives" and "Leading Water Villa Resort in the Maldives" (big congrats "KatfromAyada" and Ayada).
Joining us were Christine Aldridge of No Shoes No News Travel and Amit Patel of Simply Maldives. We all went out for a post-show nosh-and-natter catching up on all things Maldivian. Going around the table for the resorts sharing our perspectives – between us we had visited over 130 resorts (with obviously a lot of overlap). We whipped round sharing our superlatives like which resorts surprised us the most (in a good way) – Gili Lankanfushi, Soneva Fushi, Bathala, KATH, Komandoo.
The big news of WTM was the Thumburi guest house island project. It looks like an inspired initiative to have your cake and eat it too for both guests and Maldives entrepreneurs. It provides an island and infrastructure to reduce the costs of development and required investment so smaller businesses can investi in Maldives tourism. It also provides scale, diversity and competition to provide high-quality, but value-priced properties for the middle market aspiring to enjoy Maldives paradise.
I got to connect with some new resorts – Embudhoo, Equator Village, Summer island, Sun Siyam Iru Fushi, Diamonds Athuruga and Thudufushi, Barefoot, Centara, and Ayada (obviously).
A little virtual sunshine in my week. Maybe not the palm trees and pina coladas, but I still got to bask in wonderful smiles and gregarious warmth endemic to the Maldives at least for a day.
This post has a new category tags to the blog for "WTM" as this is now the 4th instalment of Maldives presence here.