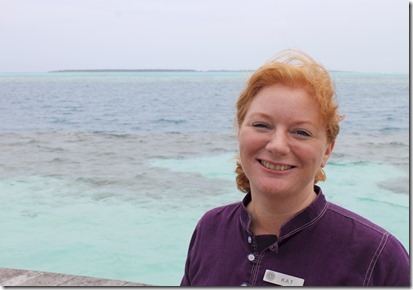 All Saints Day and it was today 13 years ago (on a 9:30 am Qatar airways flight to be precise) that a saint among the communion of Maldives experts arrived on its azure shores. Kat has all received the digital equivalent of beatification being anointed as a TripAdvisor Forum Destination Expert (which she has since stepped down from).
I had a chance to not only spend time with Katherine Anthony ("Kat" to just about everyone in the Maldives circles), but also to sit down with her and talk her about many years in this paradise during my stop at her resort, Hideaway Beach, this July…
Q: When did you get into the hospitality industry and what was your first job?
A: I actually came into hotels completely by accident. I was working as a graphic designer in my hometown of Bristol. The company went bust and my godmother said 'You're never going to get a decent job in Bristol. You need to go to London. London is where the work is. So I moved up to London and realized there wasn't a huge number of graphic design jobs there either. And I just ended up temping and the first job I got was working as a secretary in the sales department of the Churchill Intercontinental. And I have never left hotels since. I've never even left the sales team since. I've been in Sales and Marketing the whole time.
Q: Did you go from London to the Maldives?

A: Oh no. I did 3 years in London. It was fabulous. I didn't save a penny. Had a really great time. Then I got offered this job in Qatar in 1999. At that time, nobody had heard of the place. I had to look at the map. And everybody was like 'Why would you go to Qatar?' I found a picture of the hotel when they were building it. It was literally desert, turquoise water and nothing else. I thought, 'what the heck, let's try it.' So I flew there. Never seen the country before. Never seen the Middle East before. I had travelled around Europe, but I never been that far. I remember landing in Doha and it was flat, flat, flat. There is nothing there. Nothing, nothing, Nothing. And I thought to myself, 'oh my god.' And I ended up staying [in the region] almost 12 years."

Q: How did you get introduced to the Maldives?

A: I got targeted by a headhunter basically. I had sent my CV out to a whole bunch of places and this guy from Australia came back to me and said, 'I have this fabulous opportunity in the Maldives. Would you consider it.' And I gave it half a second thought and I said, 'Yeah, okay!' I mean who the heck says no to a job in the Maldives?!

Q: Did you know what the Maldives was at that point?

A: I did. Because having lived in Doha, it is close to the Maldives and Qatar Airways had started doing flights. So I had seen some Tourism Board advertising so I had a vague idea – the whole image of the Bounty bar island.

Q: What year was this?

A: This was in 2003.

Q: Which resort?

A: What was then Hilton Rangali.

Q: First impressions?
A: Wow. You get there by seaplane. I think everyone experience this feeling when you come to the Maldives. First of all, you've never flown in a seaplane before. It's a really amazing thing. It was a beautiful sunny day when I flew in. It was just magic, absolutely magic. When I landed, my boss Carten was there on the platform to meet me. And I was all ecstatic and I think we was wondering, 'oh, what have we hired?' But I calmed down after a few days. How can you not love this place? How can you not like it?
Q: What most exceeded your expectations?
A: The thing that really blew me away was the underwater world. Because you read all of the journalists' stories about how amazing the coral reef is and how colourful the fish are, etc. But nothing really prepares you for what it's like to come face to face with a manta ray or really any kind of fish, any colourful fish. And there you are in the water in their environment. It's just magic. It really is amazing. That I did love.
Q: And what fell short of your expectations?

A: Well, I'm a redhead so I don't tan particularly well and living in a tropical environment so living in a tropical environment with daily sunshine is probably not the smartest move. You have visions of lying on a hammock under a palm tree. I don't do an awful lot of that because I burn really quickly. It's hot and I don't like sand that much either, so it's not ideal.

Q: Have you been in the Maldives non-stop since you arrival.

A: No, I've tried to leave the Maldives three times…and I keep coming back.

Q: What was it like the first time you left the Maldives?
A: I was still working for Rangali and I got a great job offer in Dubai. I'm a city girl at heart so I thought, 'Okay, fine, time to leave the Maldives." I'd been there nearly 5 years at that point so I'd done my time in the Maldives. And I cried, and I cried and I cried on the plane…it was awful. I have a great time in Dubai. I made great friends and I loved Dubai. When you move to a new country and you don't know many people, you always get homesick for the place you'd left before. I'd spend my Friday evenings in Dubai (which is the weekend in Dubai) thinking, 'Oh, if I were in the Maldives right now, I'd be sitting in the staff bar.' I actually got quite homesick for the Maldives.
Q: The Maldives has evolved enormously over the years. What has struck you about how both the guest experience and the staff experience has changed over the years?
A: The guest experience when I came in 2003 was all 'no news, no shoes', barefoot. That was the standard that everyone would expect when they'd come to the Maldives. There were no newspapers, no TVs in the guest rooms. We didn't have Internet. If you wanted to check what was going on the world, I think there was one computer in the business centre somewhere. And there was only dial-up on the Internet. Whereas nowadays if you were to tell guests that you don't have Internet and 500 satellite channels, I think they would go into complete melt-down. And I'm not convinced whether or not that is a good thing. For me on of the great things is that you are not part of the rest of the world here. It is just something separate and different. I see people complaining about the bandwidth, that they can't download, they can't Skype people. We are in the middle of the Indian Ocean in the middle of nowhere, do you really need that technology? We did a test once when I was working at Conrad. They had 20 mbs Internet speed and they had 1,200 devices connected to it. So you have almost 300 guests in the full hotel, almost 400 staff, everyone has 1 or 2 devices on them. It's a lot of things sucking up bandwidth not to mention that the hotel itself it trying to run on the same connection.
Q: You were at one point a Destination Expert for the TripAdvisor Maldives Forum. That's quite a kudo. There are only a few DEs designated per destination. What advice do you have for resorts and resort staff who want to engage with TripAdvisor?

A: Whoever is doing the engagement with TripAdvisor needs to be someone who likes to talk and chat to guests and give information. It's no good saying, 'Well, it's your job to do TripAdvisor' so someone who is not naturally communicative. You have to want to talk because otherwise it becomes just another task that you have to tick off every day. People can feel whether you are genuine or not. It comes across in your words and what you are writing. And the other thing is that you can't take it personally. People are going to not like you resort or not like what you say and that's their opinion and they are entitled to it. There's no point in arguing with them. Your resort is never going to be perfect for everyone. All you can do it try to correct facts. So if someone says that you have a Chinese restaurant and you don't have a Chinese restaurant, you can go and say, 'no, that's not correct.' But you can't argue whether the food was good or the staff were friendly because that was their experience. It's very, very hard to keep your own emotions out of it. I mean I love this country and I see someone writing things about Maldivians or things about a resort or guests house are particularly coming under attack at the moment, it's hard not to want to defend it.

Q: How has Trip Advisor itself changed over the year as the Digital Revolution evolves?

A: It's grown. I would say now that about 60% of English-speaking guests have been on TripAdvisor. They've either checked out hotel reviews or they've gone to the Forum and gotten information from there. In that way, it has worked really, really well because people can get the information that they want.

Q: Final questions…what are you doing today?

A: I'm going to be sitting in an air conditioned office all day. My parents have no idea what I do. They are under the impression that I spend my day wandering around beaches, picking up seashells and working on a great suntan. I'm in the office from around 8:00 in the morning to 7:00 or 8:00 at night. But at least I have a view out my window.