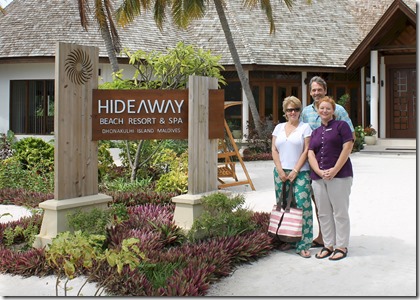 And in this corner, challenging for the title of Best Maldives Resort in the 5-Star weight class, wearing the black-and-white brand colours – Hideaway Beach. Not the best resort in the Maldives. Not the "best" of the super-premium "5+" stars (sometimes referred to by the apocryphal "6 star" designation). But the best of the classic "5-star" category. That is what Hideaway is aiming for and based on my investigation, it makes a serious run at the title.
Like a fighter who wants to win the Heavyweight title. Not bulk up to win the Super Heavyweight one. Hideaway focuses on luxurious touches that are top class, not over-the-top. That raise eyebrows, but don't make you roll your eyes. That cater to the taste of millionaires, not billionaires.
My visit also allowed me to connect with the third TripAdvisor Destination Expert (well, DE-emeritus) during one of our visits – Kat Anthony. A 13-year veteran of Maldives management and one of the most respected authorities on Maldives resorts in the world. Kat is one of the first big name transfers in a Hideaway dream team that Carsten Sheick is assembling to take Hideaway to the top of the 5-star league table. They are in the middle of an ambitious programme to take the already superb Hideaway to knockout levels while still keeping it squarely in the 5-star class (eg. no underwater squash courts, no gold leaf adorned haute cuisine,).
I couldn't fault Hideaway in any way and that is part of their focus. Getting all of the fundamentals impeccably right. And then adding a few fun, creative and thoughtful touches to spice the experience with distinction.
Another defining characteristic of the resort is "big". It is a big island – 1,000 meters by 300 meters. Usually bigger islands are found on atoll plateaus which make for a weak or distant housereef, but Hideaway has as rich and accessible housereef as you will find on any inner-atoll classic poka-dot island. It's just that there is a lot more of it. In fact, Hideaway has so much housereef that it is the only resort to boast a "double house reef" (details to follow).
The scale of the island has also translated to the scale of the accommodation. All of the villas are suites with living areas. This layout makes them great for families. Both for family games and hanging out, but also for extra sleeping accommodation if needed for children. In fact, their Hideway Palace was for a long time the largest single villa "complex" in the Maldives (though Soneva Fushi's recent goliaths have surpassed it). Mind you, the price for the Palace is a not so crazy with a peak season rack rate of just over $4,000 USD which when you consider that it can house 12 people makes the price a sane ~$330 person (in fact, Hideaway Beach has 4 of the top 10 "Lowest Cost Per Square Foot" positions of the 5-star Maldives properties and the Hideaway Palace sits t #8). So if you want to unleash your inner Philip Green by having a large bunch of friends or family for a getaway to tropical paradise, you could rent out this "room". Kat tells me that it is a great "party" villa (though the term "villa" sort of undersells it…it is really more of a "compound").
If you are a work-hard-play-hard kind of person who has earned the treat of one of the world's special experiences like a trip to the Maldives, and you value the finer things in life, but also value your hard earned money enough to not go splashing it around on extravagant excess, then Hideaway should be on your shortlist.