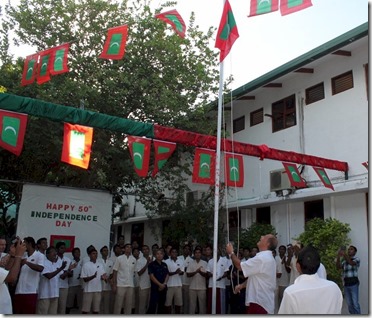 Great to be able to spend the Maldives semicentennial in the Maldives itself. So many come to the Maldives to celebrate their own milestone special occasions (coincidentally, Lori and I celebrate our 30th wedding anniversary ourselves tomorrow), it's apropos for everyone to raise a cheer the Maldives' own golden anniversary.
Or more traditionally, raise a flag. En route here, the Male airport was festooned with flags heralding the event. We are actually at Coco Bodu Hithi (tour report to follow) and they have organised an entire day of celebration starting with a flag raising ceremony with the staff at sunrise (see picture above) and concluding with a sunset soiree by the beach. The resort is also covered in Maldives flags at the entry and on all of the tables (see below).
We "toasted" the occasion with a custom Maldives Flag pancake crafted by their incredibly inventive pancake station (definite "Best of the Maldives" to follow) pictured below.