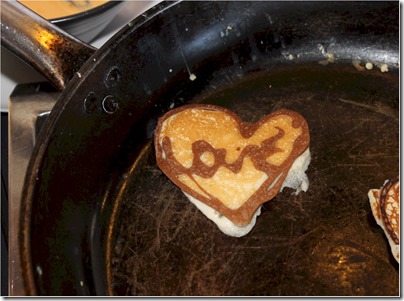 Often it is the little touches that turn the ordinary into the extraordinary. I had to start off my Best of the Maldives posts on Coco Bodu Hithi with their creative pancake station. I already featured the special Maldivian flag pancake made for the 50th anniversary celebrations a fortnight ago. But that was just a sample of the creative concoctions the chef Endro (see photos below) makes.
He uses three types of pancake batter – (a) Red (strawberry), (b) Brown (chocolate), and (c) White (plain). He made the above "Love" heart for me to give Lori and a special "Maldiv" flapjack for me.
In fact, this post made me realise that I didn't have a "Breakfast" category tag…yet.