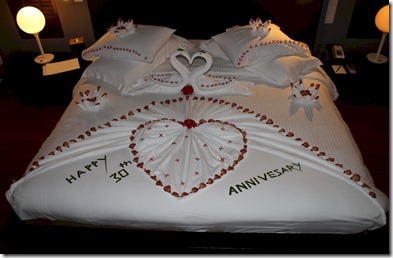 Winner and new champion of the hotly contested bed decorating. Custom room greeting décor has become such an extreme art form in the Maldives, I started a Pinterest page a while back to showcase the best I came across.
Room décor falls into two basic categories…
Bed Decoration – The original classic involving flower petals, sheet folding and palm fronds (mostly for spelling out greetings).
Towel Art – Folding towels into various sculpture.
Zitahli Kudafunfaru has set the new bar with its "Happy Anniversary" extravaganza which elegantly combined both. Mind you it was a particularly special one (30th). The only downside is that is was so beautiful that we were tempted to sleep on the sofa so as not to disturb it. Gorgeous.