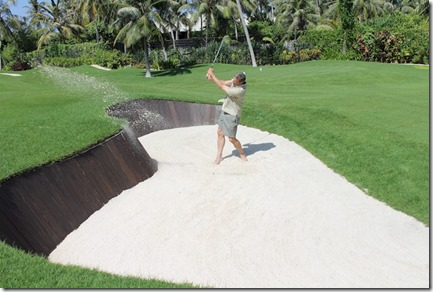 There's "Best of the Maldives"…and then there is "Best of the World". Velaa's golf academy is not just a Maldivian high point, it is world class paragon of pars. One could make the case that it is one of the best short courses in the world. It is certainly one of the most exclusive.
I know that I have featured Velaa's golf academy already. I did so on the basis of the press reports which made clear that the resort had introduced something special. But only when I visited it was I able to appreciate how extraordinary this feature of the resort is.
So expect to see a good number more pieces on various special aspects of this one piece of the island that all stand out among the resorts in the Maldives, such as…
Kids Golf

Golf Store

Hazards

Golf Pro

Golf Technology

Inflatable Hole
The course itself consists of 8 tees and 6 holes which can be combined into a 48 possible "holes" ranging from 55 to 194 yards. No worry of bumping into other golfers or being rushed or held up since when you play, the entire course is devoted to you. Sometimes when we play locally and for some reason our course is particularly deserted, we like to fantasize that we are playing our own private course. At Velaa, you actually can make that fantasy come true.
The grass on the fairways could very well be the most expensive in the world. It is made of a special variety – Pure Dynasty Sea Shore Paspalum – suited for the sand and heat that has to be planted a seedling at a time. When the resort was being developed, it took an army of workers over a month to hand plant each blade of turf.
Just the week before my visit, I had been up at the British Open at St. Andrews (coincidentally, so had the Velaa Golf Pro Frank Murray). As a result, I'm reminded that holes that overlap and share each other's space is nothing new for links golf. In fact, Velaa sort of reminds you of St. Andews – unparalleled quality, smell of salty ocean nearby, and a pervasive carpet of short grass across fairways and greens (the weather similarities between the Maldives and Scotland are another story, however).
Furthermore, one of the lessons of the Open is the criticality of the short game. Not just the adage of "drive for show, putt for dough", but also underscoring the importance of the approach shot. Essentially, none of the Open competitors varied much in the tee shots. In fact, very few hit their drives anywhere near as far as they could have (is that an oxymoron?). On a Par 4 (which all but a couple of the hole were), everyone drove a near identical 200 yards give or take, clean and placed precisely where they wanted it. Then, they made their birdies on either amazing approach shots landing within 10 feet of the pin, or amazing putts they sunk over 10 feet. Everything else was approach and 2-putt for par. All the birdies depended on the short game.
So if you want to perfect your short game on a course as gorgeous as the paradise that surrounds it, then Velaa is the resort for you.
Ace!