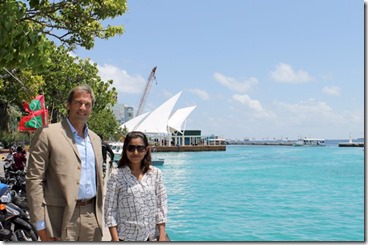 Another tour comes to a close. I took advantage of Kurumba's proximity to Male to pop-in there. I got to see all of the semicentennial decorations that they had put up – flags lining the streets, lights for a night time extravaganza (see below), and some jetty enhancements including the Sydney-esque Jetty 1 (though meant to be modelled on a dhoni's sails not the opera house – see white canvas in the background of the above picture).
Also in the picture with me is with the very first Maldivian to help with Maldives Complete, Aminath Hudha. She was working with the Maldives Marketing and Public Relations Corporation (part of the Ministry of Tourism to promote the Maldives) and provided lots of material and guidance since its outset. We caught up and chatted about the Maldives resorts and all my visits (Hudha is a complete authority on all resorts now working for the booking company Hotelbeds).
Over the next week or so, I will be posting my initial "Best of the Maldives" pieces on each of the resorts I visited in order of the visits. Meanwhile, here are a few overall reflections that apply to many if not all the resorts on the itinerary.
Summer Weather – For some reason, the summer months is classified as low season in the Maldives. The perception is that the weather is not quite as reliably pristine as earlier months in the year. The key thing you don't get this time of year are the horizon-to-horizon azure blue skies. We used to get them all the time in our February visits, but really never get them in our July visits. You get something from couple of scattered clouds to a hazy sunshine or big, occasionally stormy clouds passing through. Most of the time, the scattered and high level clouds tone down the intense sunshine. The air is a bit more pleasant and mild. More breeze has the downside of stirring up the lagoon hurting visibility, but also the benefit of feeling lovely (especially sipping a pina colada). And there are occasional, pretty much very short-lived (and hour or two) storms, but in February (winter) they are virtually non-existent.
IPad Menus–  At first, I was blown away by Hideaway Beach's iPad menus…only to find them at Sun Siyam Irufushi a few days later. These are so perfect for the Maldives that I can't believe that I haven't featured them in "Haven't Seen" yet. I haven't even come across these in London eateries yet. They are perfect for the romantically dim lighting instead of fiddling with mini-flashlights in the dark. Not to mention the more mature diner like myself who doesn't want to bring his reading glasses to dinner. It won't be long before these become standard equipment for 5-stars the way rainshowers have infiltrated villas in recent years.
Accommodating Children – Resorts are growing more and more accommodating for children of all ages. Many are letting 2 or even 3 in stay in a villa with the parents (of course, current day villas are on average twice as big as the original ones). Also, most resorts now allow any age children in water villas with signed disclaimers.
5 Star Segment – The luxury segment of resorts just gets more and more crowded every year. Every refurb typically takes a charming 4-star property into the 5-tar league. The jostling always makes me muse on the subtle differentiators in this Premier League of tropical paradise. 5-Star rating system continues to be stressed as it is not granular enough to cover resorts from $500 a night to $5,000 night. The TripAdvisor "Stars" are no better. They don't measure absolute nor authoritative standards. They are emotional expressions of whether a property met, exceeded or underwhelmed expectations. So on TA, a cheap hostel that is surprisingly clean can get 5-stars on and a luxury hotel that skimps on lime with their papaya could get 4. The 5-star Championships are a bit like a Gymnastics competition. First, you simply can't make any mistakes in your routine and you have to execute a number of fundamental skills. Secondly, you need to execute with personality (the "Olga Korbut" factor). Finally, you need to add a bit of sizzle in with a high difficulty-factor 3 triple-reverse-summersault or the like.
Signage – One of the things that I noticed walking around Kurumba this time was their elegant signage (stone posts with stylish typography). It drove home for me an observation I made at a number of the other 5-stars that seemed "faded". First impressions (ie. arrival jetties and reception areas) and cosmetics (eg. signage) are the best investments a resort can make. Elegant signage and common area décor overcomes a few bits of chipped paint in the villas.
Finally, forget putting the "lime with the coconut", but will resorts please serve lime with papaya (I'm still astounded by how many top flight resorts make this basic oversight as fundamental as not serving sugar with coffee or butter with bread).
Tour 6 At-a-Glance…
8 islands
4 atolls (brief foray to South Male atoll for dive off Velassaru)
4 new Resort Profile pix (at 97% completion, not many missing to get)
37 new Room Type Profile pix
11 Snorkel Spottings
26 pages of notes
5 dives
3 spa treatments
15 pina coladas
55 Dive Sites added
74 Dive Charts added
68 candidate "Best of the Maldives" pieces