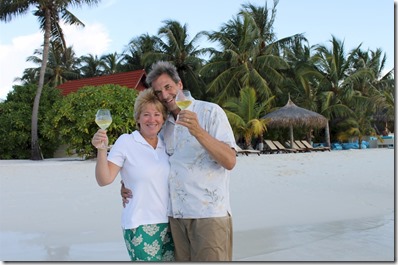 Kurumba is the Hotel Cipriani of the Maldives. Nestled on its equivalent of Guidecca Island, the view (on one side of the island) of Male is like gazing out on the Venice of the tropics. A bit of bustle in the distance with you ensconced on your secluded patch of opulence. It may not be the "plot of sand and palm tree in the middle of the ocean" experience, but it is just as enchanting in its own way.
Kurumba is possibly the most unsung resort in the Maldives. Overshadowed by its proximity to Male and the airport, it is one of the truly distinctive properties. The level of luxury puts it in the upper ranks of the 5-star (not 5+ star) league table, but the price is one of the least expensive.
Kurumba is an island that doesn't coast. No matter how many times I have visited (it is the one exception to my personal rule not to visit a resort more than once…and I have now visited Kurumba 7 times), I still uncover new treats and treasures that they have introduced. Their new New "Thila" restaurant is the best of both worlds – wide open to breeze with a firm floor and fans to cool you, or on the beach tables under a graceful canopy. It may be the oldest resorts in the Maldves, but it is always one of the freshest.
Kurumba continues to build on its coconut motif. Lori enjoyed the "Kurumba Cappuchino" which was cappuccino flavoured with essence of coconut. And they have taken the "Pina Colada Test" to a whole 'nother level (details to follow in Best Of post).
Aye Kurumba.