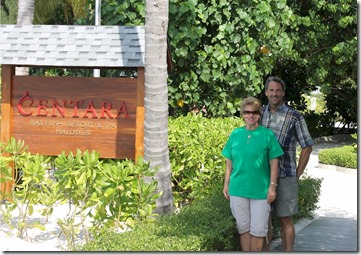 The "sweet spot" resort. Centara Ras Fushi sits right where so many Maldives aficionados are crying out for – affordable price, good house reef, convenient to Male, fine diverse food, AI available, well maintained, intimate island, and superb service. Is that too much to ask for?
Centara Ras Fushi delivers all the treats a Maldives lover craves – brand new beach bar (with swim-up pool bar), overwater bar (with loungers and net hammocks, sand floors in reception and restaurants, stylish loungers (in subtle earth colours), comfortable large beds.
The resort has also made an extra effort to cater to the ample snorkelling around the property. They do swim tests before handing out snorkelling gear. Most impressively, they have strung a submerged but floating rope at the reef edge so any snorkelers facing difficulty can grab it for assistance (or just those for whom manoeuvring the water is more difficult). They have also added 4 ladders to their long water villa jetty (second longest in the Maldives) so snorkeler could enter and exit at different points easily (why doesn't every water villa resort do this??)
So what's the catch? The only real thing anyone gets concerned about with Ras Fushi is the feared "Rubbish Island" (known more euphemistically as the "Industrial Island"). All sorts of bogey-man tales abound about resorts near this processing facility – that it looks bad, that it smells bad, that trash drifts in. The fact is that if someone didn't tell you that they processed the Maldives' trash there, it would just look like a built-up local island save for the thin plume of white smoke constantly rising from it. I've stayed in resorts near it several times and I have never smelled it. And Centara Ras Fushi patrols the resort waters every morning to nab and bits of trash that might have drifted over by accident. The resort has actually done a smart job of absolutely minimising the presence of this neighbour on the horizon. They have designed everything on the resort to face north which has a vista as seemingly remote as anywhere.
Ironically, the dreaded back side of the island provided Lori and I with one of the best views of our trip. We had just arrived when a large pod of spinner dolphins decided to stroll past while putting on a non-stop aerial display like some aquatic Cirque de Soleil. We were so mesmerised, we never noticed the Industrial Island in their background.
Even with a bit of distant trash, Centara Ras Fushi is in one of the sweetest spots of the Maldives.